- September 18, 2013 -
We got a lot done on the deck today- all the deck boards got routered, put in place, washed and stained on all sides! Now mostly all we need to do is screw them down. Before we got started though we found another big problem- I took a shower, and then was fixing breakfast while Bradley was taking a shower... and then I went down to the basement and noticed water was running down the wall! We turned off the water, dried everything- let it dry out some while we started on the deck, and then after we washed the deck opened an access board in the back of the closet to see the water lines and tested it.... but we couldn't get it to leak again.
- November 23, 2011 -
The tape changer died today. We've had a lot of systems failures the last couple months... this was the first to make me happy. I had the system eject a tape, cause the flippy thing was unable to read the bar code on the tape, and thus I had to go through the drawn out process of telling it to eject it so I could try and put it back in and have it read again... but alas... after ejecting the tape... it was off. I pushed the on button, nothing... went around to the back and unplugged the autoloader... plugged it back in, and tried the on switch.... POP! Some'n blew up in the power supply. It probably could be up and going again with a new power supply, but with as flippy as it was I'm happy to see if writing the files to disk will work out better.

T & I are baking a cake tonight for me to take to Thanksgiving at Jason's parents tomorrow... good stuff.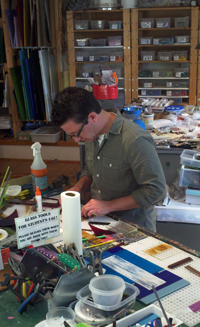 - October 30, 2011 -
Glass and Guns today. Bob, Brad and I went to glass fusion this morning. Bob and I made platters, mine is the one on the table next to Brad in the transparent and opaque blues. Brad made four coasters- hopefully it will all turn out good, it'll be three weeks or so before I see um. After glass time Bob, Teresa, Bradley and I went shooting out at Warren's farm. It was Super windy, but I figured it was probably our last chance to go out there this year. I think we all proved to Brad that we could be on his zombie apocalypse team.
- October 29, 2011 -
Beagles! Their noses get them into trouble. Brad, Teresa and I were happily cleaning the guns on the back deck and Shug was playing about in the backyard, just running about smelling things- that kind of stuff makes her so happy. She scampered up to a red-bud tree which squirrels like to frequent, it's a gnarled old thing that's hollow and has holes in it, but it's still somewhat alive. So she smells the tree, and then sticks her head in a hole... That's all well-and-good for a couple seconds, and then she began to thrash and yelp. We jumped to our feet and ran out to help her, she was stuck, and the hole was a couple feet up, so I picked her body up so she wouldn't have pressure on her neck, and she managed to calm down some. Teresa ran inside and got the canola oil which we dumped around her neck to try and free her, and Brad got a couple saws. Oil didn't help at all... the red-bud was like a magic Chinese finger-cuff... her head slid in, but it was not going to slide out. None of the tools worked too well on the tree either, so after 15 minutes of trying... Teresa called 911.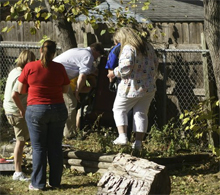 They dispatched animal control, and in the mean time Teresa also called Julie and Jason who have a larger selection of tools. The lady with animal control got here first, and she said she could tranquilize Shug, but warned us that she didn't know how to dose it and couldn't guarantee that it wouldn't kill her.... She called a vet for us though, so she was of some help I guess. Julie and Jason got there next, we tried to saw a bit, but it'd cause Shug to thrash, so we'd stop, calm her, and try some more. Dr. Carder got there pretty quickly after being called, and sedated Shug. Wasn't too much after that that we cut her free from the tree and got her away from it. After she was laying on the ground a couple seconds she started to have seizures- I about lost it at that point, but he said it was normal and checked her out. She finished her nap inside, she had been stuck for about an hour, by ten that night she was all happy again like nothing had happened.
- October 9, 2011 -
Fall is here, the trees are starting to turn, and winterizing has begun. This weeked we put a new screen door on the back porch, and started to redo the basement windows.
- October 3, 2011 -
Brad and I had a three day Arkansas weekend to go to his friend Sarah's wedding, and to take Shug to meet Daisy. We managed to fit in a bit of hiking and mountain climbing and took some more photos- After Italy I've really gotten into shooting panoramas.

- September 5, 2011 -
Labor Day Weekend, and PERFECT weather! Pretty much everything on the to-do list for the weekend got done- my bedroom is completely painted and the buckets of paint are gone from behind my closet door, the house was cleaned top to bottom, cars were washed, and the metal railing out front had all the old paint ground off of it and got a nice new coat to make it look like new again! Sunday night we discovered an Oriental restaurant over by 29th and Wanamaker that had Korean food- it had been so long since I had Bulgogi- Mmm, unfortunately no Toh sol Pibimbap though. So sad.
- August 13, 2011 -
We got a cab this morning- Wow- it was like crazy taxi! He flew at 120 kph down the streets of Florence, parked cars on both sides of the deserted streets, but still with just a narrow bit of room on both sides. At one point we met a cop car while doing at least 70 in a 30, but they didn't see a problem, I guess getting tourists to the airport quickly is a matter above the law. Unfortunately though our flight was late leaving, that screwed us up in Amsterdam (we were there at 10 and our connecting flight was to leave at 11, but they said that was too late).
- August 11, 2011 -
Another speedy Trenitalia and we found ourselves in the beautiful city of Florence- our first night here Marg gave us the walking tour of her former home. The city is magnificent, and is next to a large hillside which was the prefect vantage point to see the entire city. I guess Naples had Vesuvius, but in Florence all the landmarks stood out. Walking the streets made me feel like I was walking in the footsteps of the greats, Rome may have been the center of greater political power- but Florence seemed to inspire greater thought. The next day was a big museum day, we went to the Ufitsi, the Medici's palace, the DaVinci Museum and meandered more. It was our final day so it was a big souvenir gathering time to make sure our bags were topped off.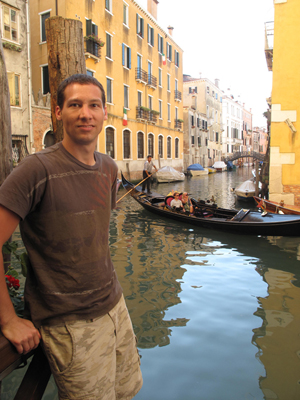 - August 10, 2011 -
I got up at five in the morning and got ready to take some photos at the sun came up- I didn't capture anything too great though, the buildings are all three to four stories here with very narrow streets so sunrise type photos are difficult. I got to see the morning cleanup and ritual hauling in of food and supplies, and the hauling out of the trash though.
We went to the top of the Campanile in San Marco Piazza at 11.... It provided an excellent view of most of Venice... What we did not know was that it was still one of the very much used bell towers in the city. All of a sudden they started to move and I didn't think it was actually going to do it, but sure enough, they really started to sway until deafening gongs were being created. We were already in line to go back down the elevator, which opened for us and we were able to escape. The bells were all still going off when we got off at the bottom.
- August 9, 2011 -
We were ready to leave Napoli behind... poor Napoli, a couple really fast trains later we were in Venice, the city of canals boats and dollies. It's a most unique city, there are no high water issues now- it seems like the water line falls two feet below the sidewalk and building level, but in the spring and fall at high tide the difference is made up, someday a massive seawall will be needed, I guess the ruins of cities are also very popular too. We wandered the city some and found our way to San Marco's and around to some of the largest bridges.
- August 8, 2011 -
A big reason for coming to Napoli was how close it is the Pompeii and Mount Vesuvius, so this morning we hopped on the train and took a four hour tour of the site. I was really amazed at the size of the ruins- I was more expecting a small village, but it had some pretty large amphitheaters and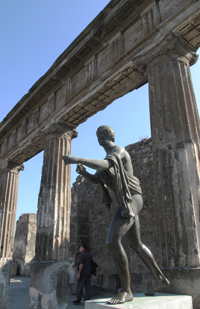 temples. There are quite a few stray dogs which have been welcomed by the site, they have an adoption program for them too. The dogs really seemed to know how to work the situation to get attention too. After eating lunch we caught a bus part way up Vesuvius and then hiked up the rest, it was a great view of the bay area containing Naples, Sorento, the new cities of Pompeii and Herculaneum, and a few others accounting for about two million people all so close to the still active volcano. With a few hours left in the day we took the train to Sorrento- it's a very fancy upscale city where you don't have to fear about getting mugged! amazing that Naples was right across the bay from this...I got to see the sun set over the Mediterranean for the first time. As darkness fell we fled back to the hotel in Napoli only to be talked to by a scary drunk fellow- but that was so much better than last night, so we'll take it.
- August 7, 2011 -
OMG! WTF!?! After a tense journey through Roma Termini (Rome train station) we are now in Napali...(Naples).... Oh... My. Well where to begin? I'd have to say this is where the government failed its people. Nearly every trash can was filled to the top- every dumpster was filled too, all had trash around them, and whatever was light is carried by the wind to every corner of the city. You get off the train from another city with a concept of what Italia is and a visit to Naples will turn it on its head. Instead of a city built and dependent on tourism for prosperity, it is a city that seems to not really care why people come to it, and has learned to prey on them because they continue to come.
We got off the train aware there were "pick pockets" here, instead as we left the we found trash everywhere, and I mean everywhere- and while trying to find the world's greatest pizza I saw a guy throw a sack of trash at someone on a park bench, saw people ten feet away from me going through purses they had just stolen, saw a car with no wheels, a nice museum of art from Pompeii, and then as Marg tried to get money out of an ATM after dinner tonight a moped raced up to us on the sidewalk and the rider tried to yank a purse from a girl who happened to walk between us and him. We made it through the day safe though, all of us have all of our belongings and we're safe behind the walls the Hotel Potenza. Oiy vey!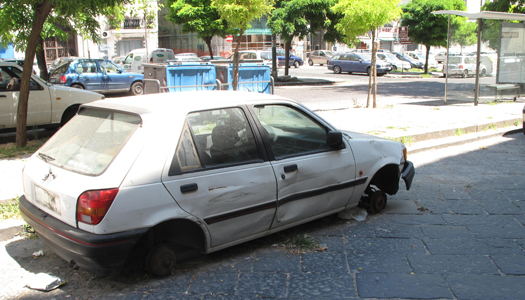 - August 6, 2011 -
We hit ever major site and then some I think. I think we were all pretty fulfilled with ourselves in all the ground we were able to cover. Our second day in Rome we caught the metro to go see the Vatican, crossed the Tiber River to a hill which overlooked Rome and the wandered some to pick up a few more sites.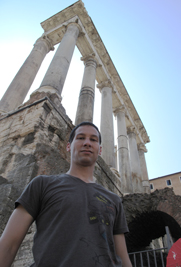 - August 5, 2011 -
We got up early for our biggest day. We tidied up the apartment and got all of our stuff packed up and then went for the bus to the Chiusi train station where we'd get the train to Roma. A few pictures were taken of the apartment and Marg hauling her suitcase down the street as we went.
A bus and a train later and we were in the Roma Termini, one of the most hopping places a confused traveler could ever be dropped into, this time though we were able to make our way out of and onto the street-with all the luggage in tow. We had a lot of trouble finding our hotel, the Hotel Paba, which had a tiny sign, and was just half of the third floor of a large building. Once settled we were off to explore the city- Marg had put a lot of time into researching what to do when we got here so we blitzkrieged through them. I don't think I can even list the things we saw, we set out for the Coliseum first- Rome is just littered in ruins! There are the ones widely known, but there seem to be just thousands of sites spilled out over the city, some have been reincorporated into newer buildings and some are just in green spaces between them. We managed to run into a lady who was on the first train we took from Rome a couple times.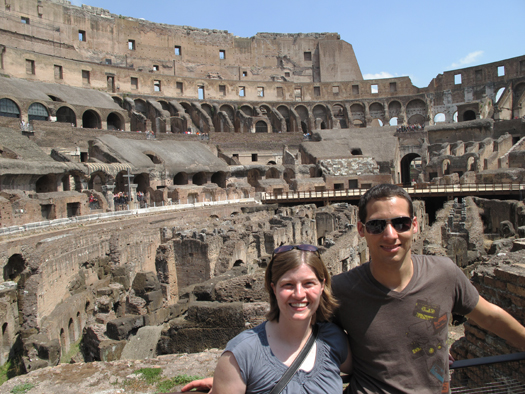 - August 4, 2011 -
We startedgetting ready for the day at about seven- I couldn't really sleep last night- I think my body just considered going to sleep as a nap
though cause I quickly woke up feeling rested. After a bus, train, and another bus we arrived at San Gimignano. The city's main attraction are towers which the rich had built to show their wealth. 14 of 72 towers still remain and the tallest we climbed to get a view of the city. We also went to two torture museums... Not sure why they were there, they were both pretty gruesome.
- August 3, 2011 -
Our first trip to another city was to Siena which we took two busses to get to. All the roads through the nearly mountainous countryside twisted and turned through fields of olive orchards, vineyards and fields of sunflowers as we went. In Siena we saw the Doumo (Dome), which is like a cathedral- we went though it and its museum areas and went to the top of it to take some great photos of the city. For lunch I had a pizza which is pretty different here- it's all thin crust and is largely just sauce and cheese, there are herbs and a lot of love put into it too, and I guess our way of putting all sorts of things on a pizza is gross to them- it was good though. We also went to a bakery/candy shop- to use the restroom in any place you must first buy something.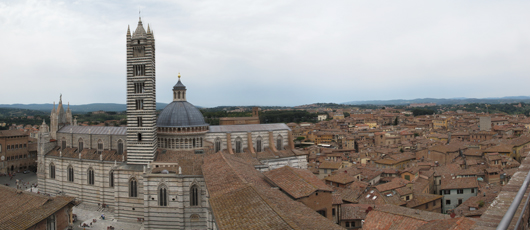 In getting home we asked a girl which bus we should take home, certain she said 77 we waited patiently while she got on a bus, as another pulled up, the 17, and she yelled for us to get on it. Back in Montipulciano we went to the grocery store, tiny market-like grocers seem to be more prevalent here, I didn't see any large stores. In the store they had the normal sized cart, and baskets, but also really tiny carts.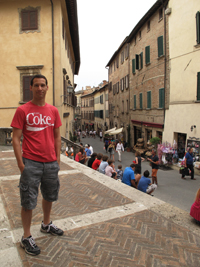 - August 2, 2011 -
Marg's apartment is very quaint, it's on the third floor with a bread store down on street level in the old city. It did make a lot of noise through the night but I couldn't sleep more due to having my days and nights messed up. Most sleep with the windows open because it's so nice and there are no screens so I guess they must not have too much trouble with bugs. There don't seem to be very many right angles to any building- whatever space between the street and the next building is where they built, so everything is globbed together into a jigsaw city. The hills dictated where the streets went, some are fairly steep, are they're paved in small flat square stones or in larger carved stones for more traction. To learn your way from one point to another there you really need to know every street, nothing is on a grid. The streets are lined with shops and restaurants, small businesses seem to thrive here.
- August 1, 2011 -
Bob took us to to the airport and dropped us off at KCI to start our big Italia vacation... next stop was Detroit. For being such a dirty city they have a very nice airport with automated walkways and it was very well-kept. The flight was long and over a night which I couldn't sleep. Teresa and I had a couple with a small baby next to us, but after the take off it didn't make a sound. Hopping off the plane we took a tram to the train station- the Rome train station is just crazy, there are at least a couple dozen platforms to board and you have run to find your train. It was pretty scary and we had to ask directions a number of times but we made it to our train and boarded okay. We were a couple hours late with no way to contact Marg, but when we got off the train in Chiusi she was there w