- July 27, 2006 -
Busy week at work, lots going on, and it's fair week. Yesterday was the parade so Grandma came over and we all watched from the porch- it was over two hours long... I think half the town watches, and the other half is in the bloody thing.
It was a busy week in world affairs too, the situation in Lebanon and Iraq both continue to degrade, but there was some interesting news too. Scientists have invented a fluid with a very low boiling point at just 58F. Since most of our energy is steam powered (coal and nuclear power plants boil water to create steam to turn turbines.... so a fluid that could boil on its own could possibly change the world.
Bush is in trouble with Republicans, I think mostly as a means to separate themselves from the President before the election a bill is in the works to allow Congress to sue the President over his signing statements. When Bush signs a bill he leaves a little memo that he's signing the bill into law... but it doesn't apply to him. .... and he did it over 800 times!!!
- July 22, 2006 -
Did you know when you turn your computer off but leave your monitor on, though it goes into a power-saving mode and looks like it is off, it still uses 40% the energy? China plans to build a coal burning power plant each week for the next seven years.
I got a lot done today, did some image work, organized my audio and image files, mowed, cleaned out the fish pond, vacuumed, and did some other normal weekend tasks.
- July 16, 2006 -
It was very hot today, super-hot in fact... super-hot appears to the going theme for this and next week. I didn't go outside very much today, just for a bit to work in the fish pond, and then I came in and did laundry, random cleanings, & just organized the place.
Saturday I went to work, and then I went over to Mary Lou's to see, and show Colorado pictures- I still need to pick the ones that I want to print for real, so I just showed mine on the laptop. Here's a photo I took in Colorado near the cabin.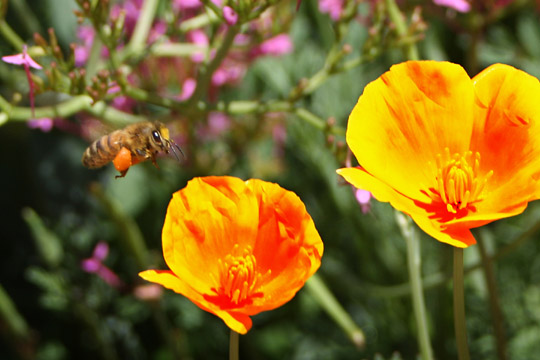 - July 12, 2006 -
It was very busy today at work- it was a good day, just very busy. After work I went over to Todd's house to see what was wrong with his computer. He had installed a free anti-virus program somewhat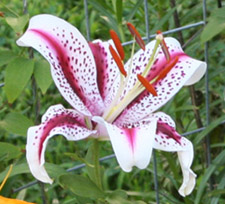 by accident from the internet and it was fighting with Norton, and though it was free, it hounded him to buy the full version so rapidly that he couldn't use his computer... sad times when the anti-virus software can be as crippling as the viruses you are trying to protect yourself against.
The lily Yuka and her Mom gave us a couple years ago at the farmers' market in Topeka is blooming this week. Last year it had a couple flowers and this year it has four. It was already dark by the time I noticed it. So I just used the photo from last year.
It looks to be an extremely hot week, and a very humid week. When we were in Colorado people complained on the radio that it was humid- I don't think they fully grasp what humidity is until they come down out of the mountains.
- July 10, 2006 -
A fun outing today; Bob, Teresa & I went to the Rolling Hills Zoo. It was pretty neat really, today I saw my very first living Rhino, and not just one but several, and a couple different types. Rolling Hills seems pretty equal to the Topeka Zoo I think, the animals didn't seem to have that large of enclosures, but it seemed like the space between them was pretty great. They also have a very nice museum there that has all sorts of stuffed wildlife.... Today I also saw my first real-life (dead) polar bear. All the animals were arranged in very natural settings, and I think it was perhaps the most interesting part of the trip.
- July 6, 2006 -
I'm tired- Oiy. I just spent an hour explaining to Carrie how to get from Fairlawn Plaza to I-470. I spent the night cleaning the fish pond, doing laundry- oiy, I can't even remember what I've done now that Carrie has turned my brain to goo.
- July 5, 2006 -
On the way the way home Teresa and I stopped at Mount Sunflower, the highest point in Kansas. As you can see from the photo, Mt. Sunflower is not much of a mountain.... it's not really that much of a hill even, but it is the highest point in Kansas.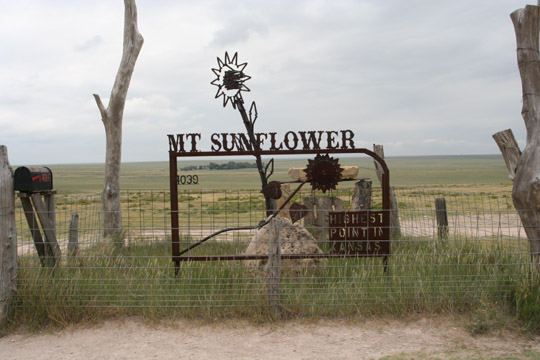 - July 4, 2006 -
This morning we went to the Red Rock Canyon which is an old quary. It was kinda nice as it was still cool out, and it had a nice view of Manitou Springs & Garden of the Gods on one side, and the mountains on the other.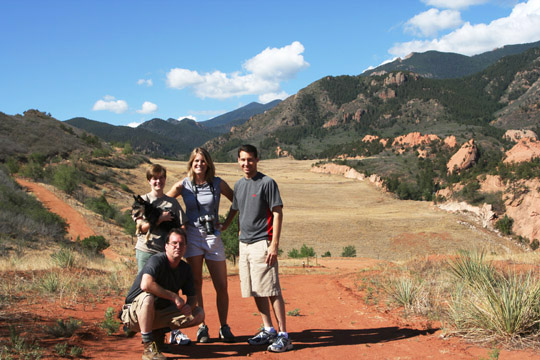 After our earlier hike we went hiking again at Mueller State Park- I sure wish I had a mountain bike for this one. In the photo below you can see Mt. Pisgah in the distance.
Eleven Mile Canyon was one place Teresa & I tried to find last year, but we took a wrong turn and ended up on a bumpy gravel road. This year Brent took us there- but his driving was a little scary. The road didn't have a barrier to prevent a car from going off into the river, and at times there was a large drop to the river.... and Brent wanted to see the nifty river too, so not as much attention was payed to the road. He did not kill us though, though I worried the entire time that he was going to.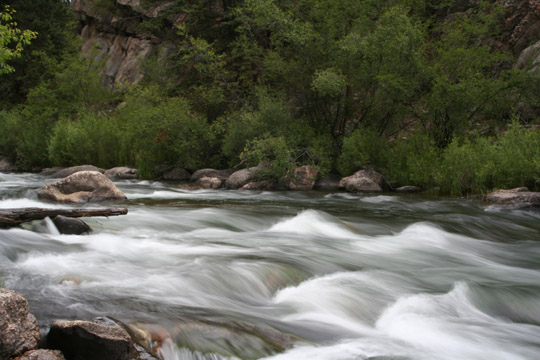 - July 3, 2006 -
Today was the day we planned the trip around- Rafting with the Echo Canyon River Expeditions. This year was a bit different from last as we did a different stretch of the Arkansas River in the Royal Gorge so the view was breath-taking as there were shear cliffs of over a thousand feet on both sides so it was much more scenic. The rapids were also class four and below, and last year we just got up to class three. The guide, Seth, said that of the rapids we saw last year, the biggest then would be comproble to the smallest this year, and I would have to agree to that. One of the very first rapids we hit was Sunshine Falls, Seth pointed down the river and asked everyone if we could see where the river seemed to stop and told us that was where the fun would begin. As we went down the river the cliffs grew larger until we got to the Royal Gorge, and a charter hellicopter flew down in and straifed our rafts. Teresa really wants to go on the helicopter next year- but the pilot seems to fly like a maniac. At one point a dog started to chase our rafts down the bank, and then jumped in to swim- the water was about to get a little rough so one raft went over and guided it back to shore, and after a while it stopped tring to follow us.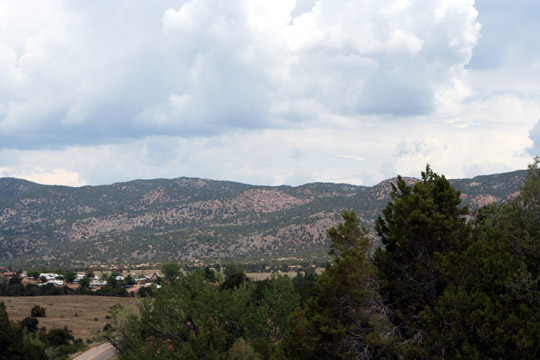 - July 2, 2006 -
Today Teresa and I woke up and made breakfast. We made pancakes, sausage, scrambled eggs, and also had fruit... super-delicious! We all ate together and planned out what we'd do for the day.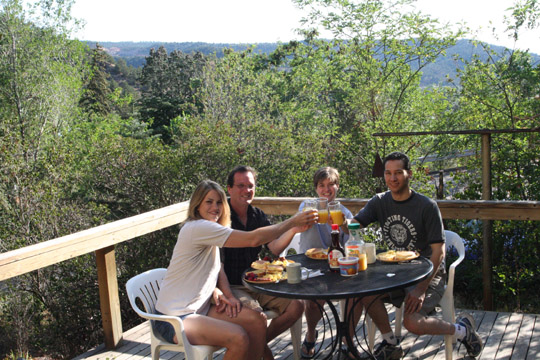 In the afternoon we all went up and started to hike up Mt. Manitou. It was pretty hot, and wasn't the best time to go hiking up a mountain. It was OK for a couple hours, but after that Teresa started to get heat stroke, so the two of us turned back.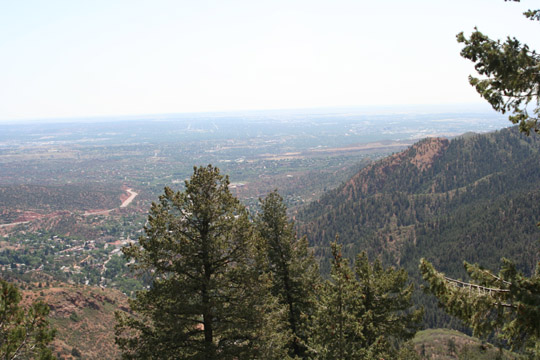 After Teresa and I had rested we went to the Colorado Springs Pioneer Museum. It is in downtown Colorado Springs in what use to be their city court house- but it was beautifly resorted.
- July 1, 2006 -
We're in Colorado now, and today was an exciting day. Teresa and I got to the cabin a little before 1pm and we moved all of our stuff in... Something smelled horrible in the refrigerator- we sniffed around the inside and didn't find what it was, so we pondered that something crawled behind it and died. It turned out to be a tub of sour cream though. We made our way down in to town so we could find someplace to eat and to get breakfast food, but by the old castle on Ruxton, a crowded little street with cars parked all along the side we saw a car backed into a truck. The lady had pretty much backed straight out of the drive to the castle into the truck. She sat there for a little while- we didn't actually see her hit it, but she sat there so long up against the truck thinking what to do that we could put one and two together. She pulled forward a little, got herself in the direction she needed to go, and she proceeded like nothing happened. By that time we were about twenty feet from the truck, and we could see a big dent in the truck right in front of the door- it was about six inches wide and sank in an inch about. This was the point that we switched to crime fighting mode, and we pursued the car, a dark green buick, and we wrote the plate number down. The lady parked again downtown, and as we pulled up behind her we could see that the driver's side corner of her bumper was damaged, and she looked like she was kinda pondering what to do- she put her hands over her face.... but since she didn't go back to the truck, so Teresa wrote down an account of what happened with the lady's plate number, and I went and put it under the wiper on the truck.
We then went shopping at the Safeway for breakfast stuff, and then got some Taco Bell and came back to the cabin to eat- after we finished we hiked about a fifth the way up Mt. Manitou, wandered to Garden of the Gods, and went up just a wee fraction of the Pike's Peak trail. Soon after we got back from that Brent and Angie arrived and we shared pictures and stories about the trip here- they had gone to Castle Rock before coming out.