Jan 22, 2010 -
Things have been so busy lately; it just seems everyone wants something fixed that they broke, got something new they want set up, wants help picking out something new that will make them happy, or wants something made or done.... lots of someones and lots of wanting. All I want to do is paint and work on the hallway.
The hallway is coming along though. The ceiling is now painted "almond oil", which is a warm beige, perhaps a wee bit golden, and we got a new light fixture that's a lot nicer. Jesse came over and installed it over lunch on Tuesday. It has a thicker colored glass shade to it, which I like- though now I see the drawback of such... I hate being able to see the light bulb, but you have to use a larger bulb to produce the same amount of light. I'm painting the walls cranberry; and that's not going on well over top of the pale yellow, you have to get several layers on so you don't see any effects of the bright color below. I wonder if they make a black primer. I think over the weekend we'll get mostly finished with it.... I still need to get new molding for around the top though.
Jan 18, 2010 -
We've had days and days of fog as the snow melts and evaporates. Teresa and I drove around for about an hour searching for good trees to photograph for some sort of big print I could make, but I fear I never found trees that I consider perfect enough. We did stop for a bit at Cedar Crest and take some photos of ourselves though.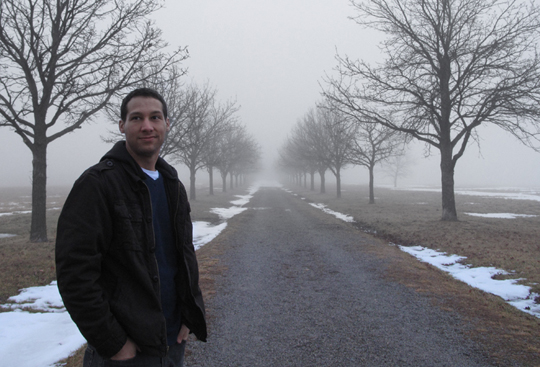 -
Jan 1, 2010 -
New Year's Eve was held at my house this year- I took the day off to do some pre-party shopping and cooking; I ended up going to Wal-Mart once and Dillon's twice to get things. There was a ton of food, that I'll probably be working on the rest of the year, and fun was had by all. Mostly we played Trivial Pursuit- A very good evening.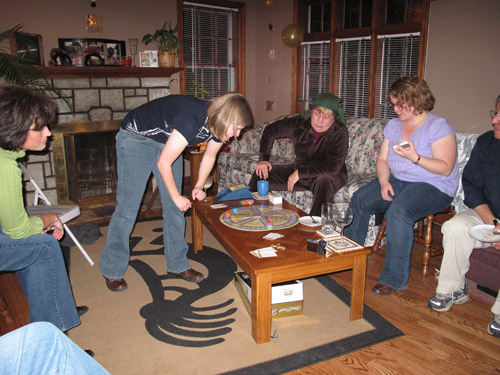 - 2001 - 2002 - 2003 - 2004 -
2005 - Jan - Feb - March - April - May - June - July - Aug - Sept - Oct - Nov - Dec -
2006 - Jan - Feb - March - April - May - June - July - Aug - Sept - Oct - Nov - Dec -
2007 - Jan - Feb - March - April - May - June - July - Aug - Sept - Oct - Nov - Dec -
2008 - Jan - Feb - March - April - May - June - July - Aug - Sept - Oct - Nov - Dec -
2009 - Jan - Feb - March - April - May - June - July - Aug - Sept - Oct - Nov - Dec -
2010 - Jan - Feb - March - April - May - June - July - Aug - Sept - Oct - Nov - Dec -
2011 - Jan - Feb - March - April - May - June