- 2001 - 2002 - 2003 - 2004 -
2005 - Jan - Feb - March - April - May - June - July - Aug - Sept - Oct - Nov - Dec -
2006 - Jan - Feb - March - April - May - June - July - Aug - Sept - Oct - Nov - Dec -
2007 - Jan - Feb - March - April - May - June - July - Aug - Sept - Oct - Nov - Dec -
2008 - Jan - Feb - March - April - May - June - July - Aug - Sept - Oct - Nov - Dec -
2009 - Jan - Feb - March - April - May - June - July - Aug - Sept - Oct - Nov - Dec -
2010 - Jan - Feb - March - April - May - June - July - Aug - Sept - Oct - Nov - Dec -
2011 - Jan - Feb - March - April - May - June
Monthly To Do List: Get my computers working happy, Get Mary Lou's garage painted, Put the first issue of Reflections to bed, Learn Inkscape, Go to New York, Fix Angie's computer, Fix Alex's computer, & Make a web page using CSS.
- April 28, 2007 -
History Day was today- Oiy, I had trouble logging in in the morning- I'm not sure why they felt that they set it up the way they did, but they gave me the password dem0a33t, (and they wrote a letter that she thought the 0 was a zero and not the capital letter O... So I tried zero, then I tried O... neither worked, so I tried a different context (they had two different account contexts you could log in as, so I entered the username and different versions of the password to that. So I called the two tech numbers.... Nobody was there... So then Letha came over, and she was trying it, and it let her in with demoa33t- Bah! I was sure I tried that too, but I guess only on the secondary context. I stayed in one room most of the time as two of the WU room monitors were no-shows and I got drafted into doing that. The documentaries I found one on Czechoslovakian democracy very interesting. There were tech problems later in the day though, one kid had sound trouble with his Power Point, another had a video that crashed the system when he tried to play it with real player, and then the system crashed again while it was restarting... and then there were a couple kids that had their documentary on a DVD that would skip while it would play in the DVD player or via the DVD drive on the computer, so they had to play it for the judges on the ancient laptop they brought that could not connect to the projector. I should have taken my laptop as an emergency backup.
After all that I came home and took a nap, mowed the yard, and watched some TV; National Geographic had a documentary on North Korea, Lisa Ling found an eye surgeon who had been given permission to enter the country to treat one thousand patients that became blind from cataracts, and she was able to film the procedures, and also some about the people there (with extremely strict supervision).
- April 26, 2007 -
What an extremely busy day! I worked on some charts for Marsha; Transferred my files from my old Ubuntu 6.04 to my new 7.04 Linux system; Got Neo mostly updated and ready; Posted a couple times to a spam forum to see if someone could explain how to alter banned file rules; Egads, it seemed so busy, but now I don't feel like I accomplished much...
End of the month, so how did I do with my goals? (I know I will not accomplish any of these items in the remaining days of the month)
| | |
| --- | --- |
| Get my computers happy | 95% |
| Paint Mary Lou's Garage | 100% |
| Finish Reflections | 100% |
| Learn Inkscape | 2% |
| Go to New York | 100% |
| Fix Angie's computer | 5% |
| Fix Alex's computer | 0% |
| Make a web page using CSS | 2% |
Computers, they're as happy as they're going to get, which means they do not comply fully, yet work well enough that I'm happy for now. The garage, Reflections & New York are all in the past now. Inkscape... I installed it, played in it for a bit, but learning a new program can be like learning a new language sometimes- there's a lot more to it than you can take in in a month. Angie's computer... When it is here with me it can call my internet service and stay connected, but not at her house with her internet service, something's still wrong, but the computer seems happy. Alex's computer I don't want to talk about, I cannot get it to respond. CSS is in the same category as Inkscape, though I did make a very simple page: CSS2 which might not seem very unimpressive, but let me explain, it really looks like this much more simple page: CSS1, and I've made a CSS file that can instruct all my pages how to look... so unlike my current traditional HTML site which I have to change each individual page if I want to make a change to the style, with CSS you just change the one page and all the pages change.
- April 23, 2007 -
You know what? It was a pretty decent day. I reformatted my second Mac in less than five days. I guess that doesn't make for a good day, but I find it funny how 25% of the Macs in the building, Macs, the supposedly super user friendly happy computers just pooped all over themself to the point they no longer functioned. Caveat emptor indeed.
- April 18, 2007 -
I made several galleries of all our trip photos- You can have a peak at Mine, Bob's, Teresa's, Lin's and Mary Lou's photos.
I've been coughing for a couple days since I got home, and tonight my stomache really hurts. Mom said that's how she was for most of the time while she was sick, and it's a very sharp pain.... at least my cold was on pause for the trip.
- April 16, 2007 -
Monday and time to go home. Our flight was delayed some due to the weather, but after a long wait in line to check in, and a lengthy wait in the food court and in the boarding area we were on our way back to Kansas. Mary Lou and I sat together on the plane, and worked on sudoku puzzles.
- April 15, 2007 -
Nor' Easter Sunday, it's raining outside, but it doesn't seem that bad really. We had planned for this though, so today was going to be an indoors day. We went to the American Museum of Natural History via the subway- one could probably spend an entire week there because w
e stayed there all day and we probably only saw half of it. My favorite exhibits were the Earth's ocean, which had all sorts of aquatic life, including a blue whale in actual size. I also liked the "Cosmic Collisions" movie they showed in the planetarium.
- April 14, 2007 -
We all went out for breakfast at Junior's, which is a block away from the hotel. Mostly today we walked around Central Park, saw Strawberry Fields, which was a kind a tiled circle that people put flowers and strawberries on.. and every hour or so the bum who proclaimed to be the mayor of Strawberry Field would wake up and give a lecture on the significance of it all. Central Park is huge, but we meandered about half of it I think. After that we went to the Frick Collection. At night we all at together at a Greek restaurant, and Mary Lou got accosted by a drunken tourist that wanted her to ride a six person bicycle with him.
- April 13, 2007 -
There's a cold wind a-blow'n. On the morning news they said a Nor 'Easter was on the way, and it'd bring with it wind and rain. We couldn't pay it much attention though because Teresa Bob and I were off to see Lady Liberty. There is a subway station across the
street from the hotel so we set off underground and found our way across the city to the Coast Guard station. Doug Tarr, Blair's brother works for the Ellis Island library, and he arranged our free transportation or the staff ferry over to the Statue of Liberty and then to Ellis Island.
Tonight Bob, Lin, Brian & I went to see Jayne in Wicked- It was great! It was my first Broadway show, and I was surprised by the level of production, it was really amazing how they got the set to change. We got to see a lot of the mechanics behind everything after the show when Jayne gave us a backstage tour.
- April 12, 2007 -
Day 1 in NYC. I got up just after two in the morning to get ready, and I was feeling a little under the weather with what I had yesterday. Teresa and I met at Mary Lou's, and then we picked Bob up, and then we were off to KC! We left Mary Lou's car at the Thrifty Shuttle near the airport... I must say... they are the handiest service ever! You stop there, they take your keys and drop you off at your gate, and then when you return you just walk out and get on the shuttle and they take you back and get your car for you. It's much easier than having to deal with parking at the airport, and it costs about the same.
It was completely overcast the entire way from Kansas to New York, so there was nothing to see out the window of the plane. It was raining in New York so the landing was a little turbulent. When we got to La Guardia we got a van to take us to our hotel, the Milford Plaza, but the driver kept picking up more and more people until we were just crammed in like sardines. It took forever to get to the hotel, and we were nearly in a number of collisions. We ate out at a pizzeria with Jayne and then later we meandered about the city for over three hours... I was starved as I hadn't eaten anything all day really, and then I gorged myself on the pizza, so I went from one extreme to the other. I don't think I'll need to eat for the rest of the trip. My walk Kansas team should be happy, cause I'm getting some good miles in.
- April 11, 2007 -
Last night after yoga and eating out I went back to work to help with the firewall upgrade- I didn't get home from that till 1am, so I was super tired today. I wasn't sure if it was the lack of sleep but I ached a bit... joints and head, so I came home to take a nap to get ready to go on the big trip.... Mom stayed home today- she's sick, and she said she started out just like me.
- April 8, 2007 -

I added some more stuff to my portfolio and links page, maybe next month it will be one of my goals to better develop other areas of my site. I downloaded probably 100MB of updates for my HP yesterday and today, and now it seems happy with sharing the internet, and the other system seems happy having the internet fed to it instead. Once I got them happy Angie's computer got one of my modems, and now it's happy- There's a few items off my monthly list of goals.
Republican candidate Mit Romney announced last week he was a life-long hunter, which caused people to investigate... turns out he doesn't have a hunting license, and hasn't had one in the last four states he's lived in. He then said he hunted "varmints" and things he didn't need need a license for.
- April 7, 2007 -
I've been bad to my computers... First, I kick one in the head daily. I know it's not nice, but it's been flippy since I built it... the motherboard has some sort of electrical problem and the USBs in the back don't work, and PCI cards act flippy, one of which is the modem. Frequently the internet will lock up, or lock up when I disconnect- everything else works OK, but it will continue to say it's connected to the internet (it just cannot go anywhere) and it's not communicating if you pick up the phone and listen there is a dial tone- so then I'd try to restart, and it would freeze at: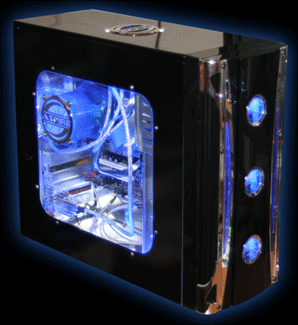 Saving your settings. I tried everything I could think of to get it to end the task, stop the process- it just cannot shutdown after it has that problem, and it has it constantly..... and that's when it gets kicked in the head... I either hit the restart button if I want to use it again... or just flip the main power switch on the back to cut the power (if it has power to it the mouse and keyboard stay lit up, and it will spontaneously come back on minutes or hours later). So I've been kicking it in the head for a year now, and it's finally showing signs of more serious problems like drive errors. So far it always fixes them when it starts up, but I think I've pondered a solution. Angie's computer needs a modem, I have two in both my computers, so I pondered putting the one from my HP that I don't use in hers, but then I pondered I should do it the other way around, and give her the one from the system I use on the internet, and have it instead ask the media center/server system to use its modem to connect to the internet and share the connection- that way I can completely bi pass having the flippy computer use its modem or PCI devices at all. NO More Head-Kickings! No plan ever seems to work out happily though. It's been a long time since Chroniton (The HP media center/server) has been connected to the internet... and it would immediately have trouble and want to send an error, which I let it.. and it reported it could be fixed via Windows Update- Yay Windows! ...but the error made it so it couldn't use the internet so... buggers! So now I have the flippy system sharing its connection to the internet so the other can get updated enough to take over... and then I'll see how many problems I have. Bah! And my big 21" CRT has started to act up... it will get wavy lines, or pop and flash a wee bit... it doesn't do it often- and it's done a few more minor things over the years... but I think it's time is going to one day come.
I've blogged more than usual this weekend, mostly because I'm downloading Windows Updates and that takes a long time, but hopefully I'll be able to get all of my computers working happily. *adds that to his list of goals*
- April 6, 2007 -
Today was a good day- an eventful day. I found my flash drive which I lost Wednesday- It was in my car all along. I really should get something so I can clip it to my key chain to prevent it from wandering. I got a lot done today- stumbled upon an answer to a problem we've known about for a week. The new system for the microfilm lab is nearly ready to go downstairs- it has to be the best desktop computer I've ever used. Four gigs of RAM, 1TB hard drive, Intel Core2 Duo processor, 20" wide screen LCD... I guess the G5 Mac in the Photo lab is nearly similar in specs, which is remarkably sad given its performance. Oh, it's a very good system- but it doesn'a act like a PC that has 4GB of RAM; it can take 16GB of RAM though! It can take eight 2GB chips- that'd make for an amazingly pricey system though... and I wonder how noticeable that'd be.
Yesterday Bobbie & I met with a rep from Josten's to go over the proofs for Reflections- everything is finalized and ready for the press. I liked putting it together, and it is nice to have something tangible to show for my time. I put together a low and high quality pdf for a web release of it, I'll put up a link to it on the KSHS site whenever it gets put up.
I've been asked a dozen or so times the last few weeks if I'm going to apply for the graphic design position..... ....I really don't ponder I will- I like the job I have. I applied for the graphic design job in October of 2005, and I blogged a little about it then... I didn't get interviewed for it, which I was kinda bummed about then, but now I have a pragmatic view towards that position: I was not given an interview before, I am the same person now as I was then, why try a second time? I know, I know; I've been told I should hold myself in a higher regard, but I don't feel I lack confidence in myself. Back to my current job though.... I like having my own office, I like helping and getting to know everyone in the building, I like Jesse as a supervisor, I like that it causes me to expand my knowledge.
Today Jesse gave me my evaluation- it went very well and I got good marks, but I need to focus on Linux and the network more. Coming into it I admittedly knew little to nothing about both, and so much of my time is taken up with user support that it can be difficult to learn more about those two.
- April 4, 2007 -
A good day it was; the new magazine has been sent the the printer, the new super computer came in, there weren't too many problems, and after work I went out and ate with Beca & Andrew at Paisano's and then we meandered about the mall some.
- April 1, 2007 -
OK, it's the dawn of a new month so I ponder I should make a new month's resolution! I always seem to get things done if I make a list of things I need to do, so each month I shall include a to do list in my blog, and during the month we'll see if I can accomplish everything.
Today I spent painting at Lou's, and after than Mary Lou, Teresa and I went out to eat at Tortilla Jack's & got a treat at G's Custard.
Wow, they can now transmit electricity through the air- It's been pondered for some time, but it looks like it could soon become a reality.
Mozilla has sued Microsoft over tabbed browsing in IE7.