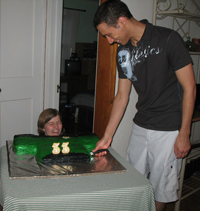 - August 30, 2010 -
I turned 33 today and tonight we had a big party at my house to celebrate. Teresa, Lin & MaryLou slaved away to make a Starfleet uniform cake which Teresa got under- it was a great night. We played pictionary though and for the first time ever my team lost- it was quite an upset to me, but I got some really nifty gifts and everyone seemed to enjoy the evening. Brad came and got to meet everyone, so it was a pretty special night.
- August 24, 2010 -
The last three weeks have been great! I met a fellow named Brad and I like him a lot. He's darned cute and incredibly smart. He's working on getting his doctorate at KU in river ecology, is a very techie sort who is into building computers, enjoys photography- It's really nice to have him refueling my interest in photography too... He collects guns and there is a trip to the shooting range planned soon, but he's not a hunter, so I don't have to worry about helping to field dress a deer or anything gross. Storm chasing is another of his passions; they have to be in the area though, it's a passion, not an obsession. His truck is outfitted with all the instrumentation to track the storm live and see its movement. Almost every time we're together we've gone out to watch or photograph a storm, sunset or the stars. I'm very happy.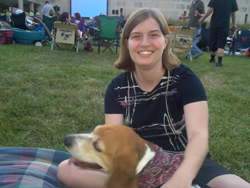 - August 8, 2010 -
What a great weekend! Friday night Teresa, Shug & I went to the film festival at work and saw Back to the Future- it was just a teriffic night! Not crazy hot, the stars were out, Shug was pretty well-behaved... it was a very good evening.
Saturday I had a date
Today was our day of work- I trimed all the trees I could reach, and the gutter on the back of the house which was filling up with locust leaves is now clean. Teresa cleaned out the massive weeds in the garden... My room was swept and slightly re-arranged, laundry, dishes, grocery shopping and a nice Shug walk. We did manage to squeeze in lunch with MaryLou and Tortilla Jack's, and I got a nap in.
- August 5, 2010 -
After eight months of home ownership I finally got my aquarium moved and set up. We have fifteen fish, and two snails, and I just put some live plants in from Lin's pond... I need to get some more fish, and then I'm done.