Quote of the Month:
"From this day forward, the millions of our schoolchildren will daily proclaim in every city and town, every village and rural schoolhouse, the dedication of our nation and our people to the Almighty." - Dwight D. Eisenhower on signing into law the addition of the words 'under God' in the Pledge of Allegiance, June 14, 1954.
- February 28, 2007 -
It's my six month anniversary working for IT today, and in another month it will be my third year at KSHS.
- February 25, 2007 -
It was a busy week. Jesse was gone to training and there was a barrage of small problems that kept me running about, but there were not any major problems with the server, though the phones did go down Tuesday. Tuesday night we had yoga and then went out to eat at Pizza Hut; Wednesday I went over the Christie's to give her computer the full tune up. Uninstalled her old anti-virus, uninstalled some other unwanted programs, installed AVG & Spybot and updated and ran both, turned off most of her startup programs, and defragmented. Thursday I went to a movie night at Lin & Brian's, we watched Babel... I thought it was ok, but I don't think I'd deem it "must see".
- February 18, 2007 -
Windows, Mac & Linux... Windows XP accounts for 86% of the desktop market today, the next largest category is the other versions of Windows, which is made up of Win98, 2000, ME, and Vista and takes up 9.3%. All the Mac OS versions combined come in a distant 4.34%- and the true underdog Linux comes in at .34%. I've been using Linux for six months now, and I find myself wanting to devote myself more to using it over Windows,

but I fear I keep failing to make the leap, and have stopped using it at home altogether. I've been using Ubuntu which you can download for free (most Linux distributions are free) and you can burn it onto a CD to install it or try it- basically it runs from the CD so you can get the feel of the operating system without ever installing files to your hard drive. It also comes with a ton of free software... more than what Windows comes with, and you can easily download hundreds of other programs. So why haven't I made the leap? Mostly because I'm just really hooked on a lot of windows software, mainly graphic design stuff, and drivers can be a problem to get extra hardware. If you have a fairly general system though you should be ok. I wish Ubuntu would make a deal with computer manufacturers... to produce systems that came with it already installed and fully optimized, I think if people had the choice they would also make the leap. This has been done before though, but it was an off-name system with no marketing put into it, so it didn't do well.
Oh no, I finally did it... I washed my flash drive. It went through the washer and the dryer but it came out and still worked.
- February 17, 2007 -
I've started getting e-mails from my host sister Miyako again; she got married and moved to Kagos
hima last year, and I had not heard from her since. She e-mails me via her cell phone so I'm not sure if she can look at my blog.
The plant to the right is my biwa. It's a fruit tree, and it's almost nine years old now. It would not be able to survive the cold here, so it makes seasonal migrations inside. It now measures 125 cm tall counting the pot... so it might be a long time before it ever produces fruit- the seed came from fruit I ate one night with my host family, and Miyako sent them to me after I came home. If you like you can read the wikipedia article on the Eriobotrya Japonica.
MaryLou sent me a photo the other day of a puzzle she put together of the Kinkaku-ji temple in Kyoto. I visited there when I went to Japan... it's your basic run-of-the-mill temple, but it's covered in gold. Here's my photo.
"Is this Long John Silver's??" .... I think everyone has the wrong number, and unfortunately it is mine. I'd say 90% of my calls are for Andrew Lewis, Brian Blakemore, or Cory Somebody... I hope my Long John's caller was a freak misdial.
- February 16, 2007 -
Snow... I just don't like driving in the snow, and today it waited until three and cut loose and boy did it... it took me one hour and forty five minutes to get home, which is normally a half hour drive. I-70 was the worst part, traffic in Topeka was just a slow crawl... the speedometer didn't even register that I was moving most of the time. Highway 75 was not nearly as bad... I think I averaged a swift 30mph there.
- February 15, 2007 -
So many problems today, and not so many got solved... that makes for a tired Craig. I came home and pretty much went to bed and I woke up around 10pm. Yesterday I came home and went to get my mail... and Thunderbird had forgotten everything! It didn't know who I was, who it should e-mail for, and it didn't have any old letters. Craig was not happy cause it took an hour to repair.
- February 13, 2007 -
Yesterday we got some snow... it did just barely wait for me to get home before it began, and it wasn't really cleared off this morning, but it was traversable. I hope this is the last gasp of winter.
- February 10, 2007 -
Saturday... got my hair cut, but that's about it- it's early though; what do you expect?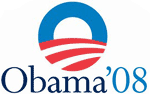 Barack Obama officially announced his candidacy this morning, and his new logo was everywhere, and what a great logo! Super-simple and yet it says so much. I'm still open on who I will vote for, I liked Edwards in the last go around, but with about 20 candidates I hate to make up my mind too early on... course there are a few of them that are already crossed off.
- February 7, 2007 -
Important lessons for the day: 1) Never drink a lot of Kool-Aid before going into a meeting where you're going to be editing a computer use policy; 2) When all else fails, call a certified printer repairman.
It was a good day though, there was lots to do... I like the lots to do days... I think the perfect day would be one where everyone had some different problem that I could solve in a few minutes, it'd have to be a real problem though, and not one of those simple things... but also not one of those giant "can't solve that in a day" problems.
After work I watched some more of Sara's TNG season six DVDs and I sent an ad to Susan, worked on revisions to a flyer for the humane society, and added a couple things to Brent's photography site.
- February 6, 2007 -
Today had its ups and downs.... Jesse came back and there were no problems waiting for him which is good! helped people... also good! Went to Sun's for lunch with Teresa & Kirsten... good fun! I made my first PHP file today... learned something new fun! ...And then I sent out a letter to everyone, which I had sent to Jesse beforehand to make sure it was ok to send out.... but when I sent it out to everyone I left my note on the front asking if it was ok to send to everyone... not fun. As Sandy would say: "What a maroon!"
- February 4, 2007 -
Yesterday I saw Letters from Iwo Jima with Bob, MaryLou & Teresa. It was a very good movie about the fight to hold Iwo Jima from the Japanese perspective... I need to see a movie I can watch without having to read though cause the last three I've seen have been foreign.
- February 2, 2007 -
Friday and I made it through the day without any major incidents. There were just a couple problems with logging in this morning... mostly I worked on printers and Sage issues. The undeleted files are now re-deleted or separated out and all is mostly happy in the land.
- February 1, 2007 -
I think the week is looking up... login problems seem to be going away somewhat, but Jesse has left for Florida and won't be back until Tuesday, so things should prove to be extra busy for me in the coming days.
Today in my change from Wal-Mart I got a couple quarters along with some other lesser coins... and I could tell by the sound that they made that one was composed of silver.... and indeed it was! It was a super dirty quarter, but I looked the year up online and it's 90% silver 10% copper... only worth about $2, but it's still a most nifty find!