- Feb 06, 2010 -
I just hung the new light out front.. the old one was eh... not very good, The socket was corroded and the bulb was prone to listing in the fixture, and it was clear glass so from the street at night it just looked like a light bulb. The new one is much nicer, now I need to polish and lower the numbers and paint the plate they go on.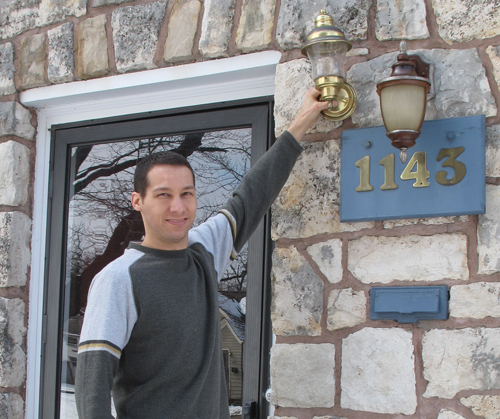 The hallway is now completely done!
Before: Peach walls, off-white ceiling, junky fixture, strange door up at the ceiling, and the trim was poorly hung and easy to pull down...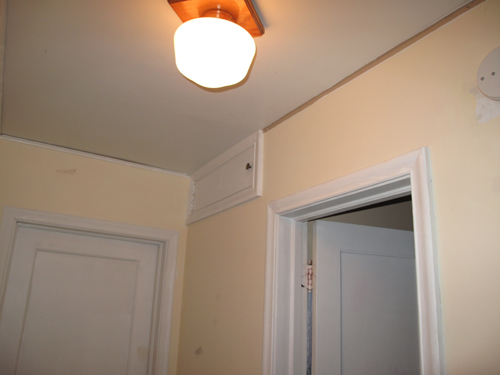 After: Cranberry walls, almond oil ceiling, new fixture, cubby at the ceiling drywalled over & new white trim.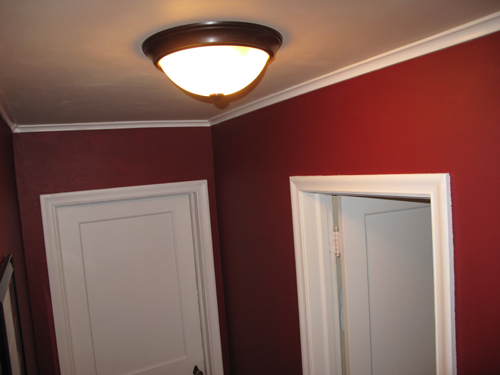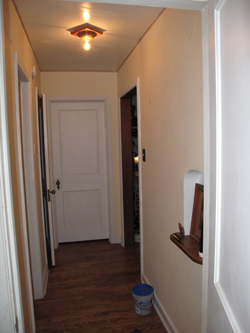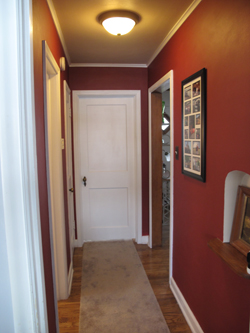 - 2001 - 2002 - 2003 - 2004 -
2005 - Jan - Feb - March - April - May - June - July - Aug - Sept - Oct - Nov - Dec -
2006 - Jan - Feb - March - April - May - June - July - Aug - Sept - Oct - Nov - Dec -
2007 - Jan - Feb - March - April - May - June - July - Aug - Sept - Oct - Nov - Dec -
2008 - Jan - Feb - March - April - May - June - July - Aug - Sept - Oct - Nov - Dec -
2009 - Jan - Feb - March - April - May - June - July - Aug - Sept - Oct - Nov - Dec -
2010 - Jan - Feb - March - April - May - June - July - Aug - Sept - Oct - Nov - Dec -
2011 - Jan - Feb - March - April - May - June