- October 25, 2008 -
Early voting has begun in many states and Democratic turnout has been high so far. From the polls Obama has a 12 point lead over McCain; Colorado and Virginia, which were previously red states, and then were classified battleground states, are now polling as leaning Obama. In Pennsylvania where McCain hoped to build ground 1.3 million more Democrats than Republicans have cast their votes already.
It was a super-busy week, it seems there are never enough hours in the work day to get everything done... things just back up, and more and more things come up after work that have kept me busy.... but I also had a lot of fun this week too, a nice game night at MaryLou's to keep Molly company, a night out in Lawrence that was a lot of fun, and a poker night at Laura Vannorsdel's (those twins are really growing and will soon turn one)! ....I lost at poker, I was the first to lose too.
- October 15, 2008 -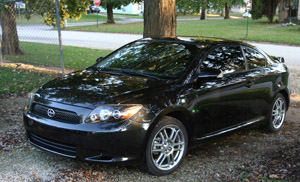 Today I changed the oil in Raider, and then I washed him with the car care kit that Nancy gave me for my birthday! I took several new photos; the rest are in a Facebook photo album.
Tonight was the third and final debate- there were 25 mentions of Joe the Plumber, 21 by McCain, 4 by Obama... People felt so many mentions of Joe was seen as a very lame thing to keep talking about. I didn't feel there were that many big moments, but all the polls (Fox poll included) are showing Obama as the winner, and many have it as a 2-1 margin for Obama.. Anytime McCain went on the attack his favorablity would plummet.
- October 12, 2008 -
What a busy weekend! Friday night I went to a county fair with Teresa and rode a ton of rides (cept for the Zipper which T was scared of) There was little to no one at the fair too so it was great to be able to go up and ride and not stand in line. For the ferris wheel we were the only ones on it! They would also give longer than normal rides too! After that we played video Smash Brothers before calling it a night. Saturday I got a hair cut and then went to the Greek Food Festival at Marsha's church with MaryLou and Bob- it was delicious and I was stuffed afterward. After that we went back to MaryLou's and I helped get her new computer a bit more set up. Once the computer was all happy I came home and took a three hour nap... Okay, I'm not sure if I can call it that since it was three hours... but I really needed to catch up on my sleep!
Today I was very productive... I painted a section of the house, mowed the yard, ran 5K, vacuumed the upstairs and, fixed a computer, saved files off someone's dead computer, and did a lot of random cleaning... I also piddled about on Facebook a great deal.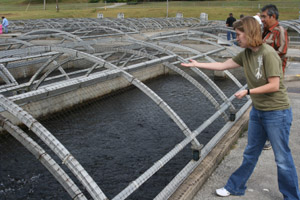 - October 4, 2008 -
Today we had breakfast at Denny's- on the edge of the smoking section (yuck!) and then we checked out of the Windmill Inn and decided on the final sites we wanted to see, mainly things around Table Rock. First we stopped at Table Rock Hatchery to see how trout are bred. Mostly it has large holding tanks where they feed and raise the trout so they can release them into the river for the fishermen to catch. They had trout of all sizes there- pretty interesting. After that we we up and over the dam and meandered about the shoreline some to collect rocks and take pictures.
There was a class or club of some sort diving in the lake while we were there... I imagine that was pretty cool even with a wet suit.
- October 3, 2008 -
Day two in Branson; we started the day off at a Cracker Barrel-type restaurant for breakfast, be got seated, and a girl came over and asked me to put my arm around Teresa so she took our picture.... and then came back half way through the meal with our picture that we could buy.... Sure they do this on roller coasters and similar places, but I've never seen it done at a restaurant, it was just very strange- but the picture was very good, so we bought it.
Sliver Dollar City was the focus of our day; I had envisioned something similar to World's of Fun, but SDC was actually a lot smaller, or at least it seemed to be- there was just a lot more craft things mixed in with the rides more spaced out. Our first stop in the park was the tour of Marvel Cave. I've never been to a cave before and I thought Marvel Cave was just awesome! The main room was almost big enough for the Statue of Liberty to fit in, it was just massive, and then we snaked around through the other smaller tunnels, there were a lot of stairs, and a cog train took us back out.
After that we took to the rides, our first one being a water ride... Teresa hearts water rides, and it was just a little too chilly to do water rides today... It wasn't too chilly to be out... but to be out and to get doused with water it was. The ride we went on was like Fury of the Nile (only a bit shorter- all the rides seemed to be shorter), and it left me with a wet bum, but over all no one got really wet. There were no lines for anything really, so we could pretty much walk up and get on anything we wanted! That's always a great way to plan for- never go to an amusement park on a busy day! We rode on the Wide Fire, a roller coaster that was great fun... but it seemed to shake ya in that way that seemed like it'd cause you to have a headache if you rode it too much... I liked the Powder Keg (another roller coaster better, it was much more smooth, and it had a catapult system that'd launch it from 0 to 60 in three seconds! Toward the end of the day we discovered the Big Swing- which was completely awesome!!!!! It was your basic giant swing...
After a brief rest at the hotel we went down to the old downtown Branson and ate at the Farmhouse- it was a very mom and pop diner that had good down-home food. Then with our bellies full we meandered down to the Landing, which is the waterfront by the river. They've turned it into a large outdoor mall with high-end shops and a nifty fountain that goes off in a sequence with music.... there were also pillars with flame throwers mixed in.
After the show ended at the Landing we went to see Eagle Eye... it was an okay movie... I give it an acceptable.
- October 2, 2008 -
I'm been a very junky blogger lately; life has been pretty busy.... and I tend to piddle about on Facebook a lot more these days.
Right now I'm passing through Parsons, KS on my way to Branson with Bob & Teresa. Teresa & I gamed a bit this morning; I'm getting quite good with Ness, he's getting to be one of my better Smash characters.
Last night I watched the Boyda - Jenkins debate on PBS... I'm sorry, but Jenkings just seems like she's on crack. Just the way she talks makes it seem like she's either on drugs, or needs to be on drugs, and she just strikes me as a very smarmy sort.
We stopped by Big Brutus on our way to the Coble house for a pit stop. This was the first time I'd seen either the largest electric shovel still in existence or Teresa's family before.
It was dark as we were rolling into Branson and the Vice Presidential debate had already come on so we listened to about the first fifteen minutes on NPR. Most of the hotels in Branson seem to be of the style where there is an office and then there a several buildings with rooms all of which you have your own door to the outside. After the debate was over we went out for Taco Bell and drove around some.