- Sept. 3, 2009 -
I've been a horrible blogger! Guess I've either had nothing to write about... or I've been so busy I haven't had time to write.... or I've been farming on Facebook way too much. Last night we had a Braces Off Day surprise party for Teresa at MaryLou's and it was a complete success! I went over to Teresa's after work as we planned to hang out, and I had to ponder a way to get her over to Lou's, but not until 6:00 so everyone would be sure to get there before her. Sometimes Teresa can be open to suggestion, and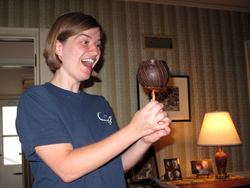 other times she'll be focused on fitting more activities into a day or night than we can possibly get done. Lucky for me she was distracted by her new blender which she wanted to create smoothies with! ...She was pretty easy to delay until 6, and then we ran out and got in the car, but she forgot her retainer case and ran back in giving me a good opportunity to call and tell everyone we were on our way. When we got to Lou's everyone had parked around the corner, the curtains were drawn, and it didn't seem like much was going on.... Teresa showed off her teeth to MaryLou who came out on the porch to greet us, and then she led us inside.... nobody was in the living room ...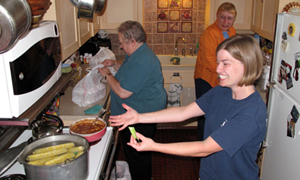 .and then we turned the corner into the dining room where everyone was. They started singing Happy Birthday only with "Braces off" in exchange for "Birth".... and at first Teresa seemed a bit confused by it all wondering just what was going on, and then she was blown away that we'd arranged and pulled it off. She got to enjoy many of the things she couldn't eat the last year and a half and then we mostly sat around and chatted. What a great night!
- Sept. 4, 2009 -
Friday night, we went back over to Lou's for a small game night and to finish up our leftover Thai. MaryLou's sister Sue is visiting from Richmond and we always like to have some sort of game night while she's here. We played Bananas, which I don't really like- I've never won.
Work was pretty dead today, I think many opted for long Labor Day weekends, Jesse included. I'm happy to have the three days off... I bet Tuesday will be pretty slow too.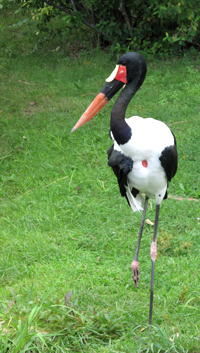 - Sept. 5, 2009 -
We went to the KC zoo today... I'd never been before.... wow, there's a lot of walking in that there zoo-going! They had a lot of spacious habitats for the animals though, and that's worth walking around I guess. There were a few areas of the zoo I thought were very run down. We found one entire abandoned section that seemed so erie!