-May 24, 2010 -
Monday, back to work, it's still too hot out, and I think cleaning out the air conditioner is a must now... It wouldn't be bad if it weren't so humid, but I guess if we get a lot of rain this week it will cool off- at least until it stops and gets really muggy again. The humidity did have an effect though; I had clothes stacked in boxes- it was actually very organized and I was using it as a dresser....
well that just collapsed in on itself and threw my clothes everywhere...And I have everyone coming over for Carrie's birthday on Wednesday too.
-May 22, 2010 -
It's a warm muggy day... Yuck. Teresa woke up not feeling so well, so we've just been hanging out around the house. We're a Nielson family so sometimes it's important to just watch TV. I went out and did some more planting in the flower beds and I picked my first pepper from the garden- not sure what the heck I'll make with it yet.
- May 18, 2010 -
Shug got a cupcake this morning. We'd put a couple in the trash, and though she's been a good doggy about not getting in the trash, I had taken it out of the can, and put the bag by the door to take out when I left for work- I guess it was just too inviting because I found the paper cup on the floor where Shug was sitting. She did a good job in getting all the cupcake out of the cup though. She was okay at lunch, so I guess cupcakes aren't too bad for her. Nekochan and she have bonded some- he enjoys a good place to nap, so he'll camp out on her bed and then she'll join him. It's so cute to see them sleeping together.

The thing Shug loves most in this world is going out the front door and exploring. She goes berserk when her leash comes out- Teresa walked her every day last week when she was on vacation and it seemed to win Shug's affection. Shug will follow her around and lay on the floor outside of her bedroom... I try to make sure that she see's I'm putting her on the leash now when we all go out for a walk to try to get her to love me equally again. I also take her out for jogs, normally nine blocks over to Lou's house and back. She seems to enjoy it, she leads most of the way, but it doesn't afford her much time to stop and sniff, and that's what she really likes about walking- I think she's pretending she's on the hunt.
- May 17, 2010 -
Over lunch today I caught Shug and Nekochan taking a nap together... thought it was cute that the kids are finally bonding.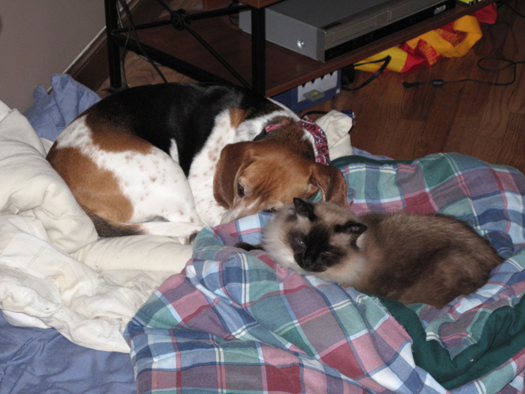 - May 13, 2010 -
Six months of home ownership! To celebrate I had a mess of people over and barbecued! I took off from work early with Teresa and we started to get stuff ready. This morning Teresa managed to collect a few images and videos together into a slideshow covering the move in, events held so far, and project before and after shots- the videos were the best part and made everyone laugh. We ate burgers... chicken... gosh, what didn't we eat? There was a lot of food, most of which will fill the refrigerator for a week. It was a great night.
- 2001 - 2002 - 2003 - 2004 -
2005 - Jan - Feb - March - April - May - June - July - Aug - Sept - Oct - Nov - Dec -
2006 - Jan - Feb - March - April - May - June - July - Aug - Sept - Oct - Nov - Dec -
2007 - Jan - Feb - March - April - May - June - July - Aug - Sept - Oct - Nov - Dec -
2008 - Jan - Feb - March - April - May - June - July - Aug - Sept - Oct - Nov - Dec -
2009 - Jan - Feb - March - April - May - June - July - Aug - Sept - Oct - Nov - Dec -
2010 - Jan - Feb - March - April - May - June - July - Aug - Sept - Oct - Nov - Dec -
2011 - Jan - Feb - March - April - May - June