- August 29, 2006 -
Day two in the new job went well, mostly I helped prepare systems for distribution.. After yoga Bob, Teresa and I went out for custard and tacos... Mmmm, mmm.
- August 28, 2006 -
It was my first day in the new job; I got a tour of everywhere the wires run, got my key card upgraded, set up a computer for my cubical, cleaned my cubical, and pondered video problems. It was a good day.
- August 27, 2006 -
Today I got the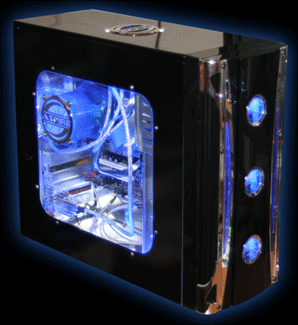 new computer running and I installed Ubuntu Linux on it. It will probably end up as a Windows system, but Linux installs so quickly that I put it on to see that everything was working right. It has some rather nifty lighting with a couple round UV lights that mount on the case fans which makes the fan, and all my UV reactive cables glow blue. I also have two 12" cold cathode blue lights mounted above and below the window.
A couple people have asked me how to make an animation in photoshop, so I created a tutorial for it.
- August 23, 2006 -
I got a new job today... I pondered I probably wouldn't get it so I didn't write about it before, but this afternoon Pat came down and told me I would start Monday. The position is tech assistant- I hope I am as useful there as I was downstairs in my other jobs.
My new power supply came today so I got it all together... It turned on... and abruptly turned off. It overheats... and does so almost instantly! Bah... though the heat sink is on correctly and screwed all the way down it still doesn't appear to make complete contact with the processor- I could tell by the way the thermal grease did not squish and spread out. I ordered a thermal transfer pad, but I ponder it might take a different heat sink- though the one I have is for the Pentium D.... perhaps I'll try a liquid cooling system for it!
- August 22, 2006 -
Bah- my remaining computer parts didn't come today as expected... I looked on the UPS website, and it seemed pretty clueless why it didn't come and said it'd come tomorrow- but that's what it said yesterday...
- August 21, 2006 -
Monday, and I didn't have to go to work. Today I got my hair cut, and then I went and renewed my driver's licence. On the printout they gave me my picture looked fairly decent, as good as I could hope for anyway with how they come out sometimes. Tomorrow my new power supply will come- I hoped it would come today, but I looked online and it will be here tomorrow.
- August 20, 2006 -
Today I spent on the computer working on stuff. I made a spay and neuter ad for the newspaper, and worked on the flyer for the pet fair, and I worked on Brent's photography website until it gave me a headache- The server side includes, which should have made it easy to update just aren't working correctly.
Last night after work I went over to Sandy's to show her how to rip mp3s from her CD collection and put them on her new mp3 player... she paid me with one of her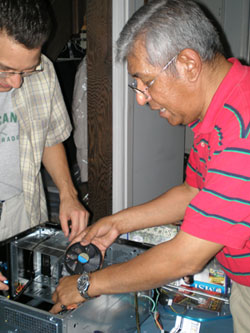 famous chocolate cakes and I had three pieces today.
- August 18, 2006 -
I got all my computer parts so tonight we had a computer building party at Bob's. There were some snafu's like a heat sensor that wouldn't stay in place, and I ordered a 20 pin power supply for for my 24 pin motherboard... not good, but hopefully I get it going soon now that it's mostly all together.
- August 13, 2006 -
A British study has found that the quality of healthcare provided to the average middle-income Britt is better than what is given to upper-income Americans.
- August 12, 2006 -
This morning I went to the farmers' market in Topeka with Lin, Mary Lou, Bob & Teresa. I managed to pick up some cat grass (which nekochan seems totally disinterested in) a tiny Gooseberry pie, and some cheesy Italian bread (which was incredibly delicious!). I got the bread from the Mormon people who always have a stand there and I highly recommend it to everyone. After the market we went to the Curtis House for a tour. It's been a while since I've been there, Holly's graduation I guess, so it's been several years.
After the morning's activities we all broke up and Teresa and I went shopping. I got a new shirt and a pair of shoes. At three I went over to Barry's to look at his computer and change how it was handling e-mail. In the evening I went to a party at Mickey's where I got totally stuffed.
- August 11, 2006 -
It's been a great week- there have been a few ups and downs, but now that it's over I'm very happy. I think nearly every piece of technology in the photo lab took turns going haywire this week- when we'd fix one thing something else would malfunction and it seemed never-ending... but everything is working good and today I got a lot done.
- August 10, 2006 -
Tonight I ordered a super 4GB 120x flash card for Brent, an mp3 player for Sandy, and parts to build a super new system for myself. Features include: 3.2GHz Pentium D processor, 1GB of Ram (for starters), 160GB SATA Drive, 512MB PCI Express video card, and the coolest case imaginable. After that I worked on updating Brent's photography brochure.
- August 9, 2006 -
I went over to Brent's after work to help him prepare some images for printing so he can put a wedding album together. Angie was over and we had Chinese food from the Panda Garden- it was very good.
- August 8, 2006 -
Tonight after work & yoga Bob, Teresa and I went out to El Cazador to eat... it was very good, but I nearly burned myself on the plate. After that we went over to Bob's and I formatted his new external drive- everyone's loving the external drives these days. I played one of Bob's games and got the two highest scores.
- August 3, 2006 -
I've sorta slowed down in my blogging since I took the lab job... Let's see, what's been going on.... Today I got a laptop in the mail for Carrie- she got cable internet, and then her old laptop rejected wireless pcmcia & USB wireless devices, it was an ancient Sony Vaio and the battery didn't hold a charge, the CD rom drive didn't work hardly at all, and several keys didn't work... it was just time for a new one that could actually be useful to her. It's an Acer like mine, but it's larger- at first I kinda wanted it, but small laptops are better for tote'n about.