Favorite Song of the Month:
The Fray - Over My Head
- April 30, 2006 -

I slept in today. I'm sore from yesterday- not so much from the running, but the hills did make a bit of a difference. There weren't very many steep hills we had to run up really, so I was a little surprised it affected me.

I cleaned the upstairs this morning.

- April 29, 2006 -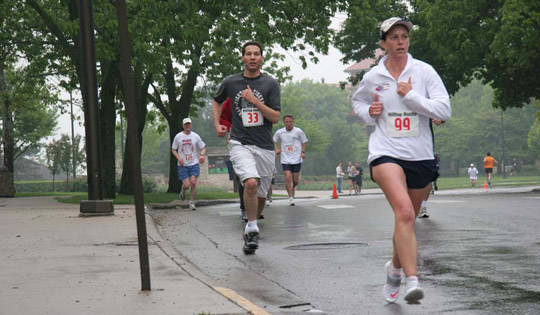 Race day! I got up at 10:30 pm... yeah, I went to bed right when I got home from work, so I woke up and couldn't sleep any more, so my day started very early. I watched DS9 some, ate, left for Teresa's at 6am, and then we got to KU before 7:30. Angie & Donna got a little lost but made it there right before the start time. We started out at the back of the pack- everyone was clamoring to be at the front, and we really didn't care all that much about starting at the front. The race began and everyone took off, the pack really began to stretch out. I ran the entire time, but I didn't run my hardest as I was getting far ahead of my group anyway. I finished seventh in my age group (25-29) a little over 25 minutes. This really made me ponder that the treadmill has been lying to me... When I run on the treadmill I run a lot faster- you really are forced to if you tell it a certain speed, cause if you don't keep up, you fall off the back. Without the fear of falling off the end of the world I don't run as fast, so I found it a bit plexing that if I ran about half as fast as I normally do how I could then better my time by five minutes. I ponder that the treadmill doesn't calculate distance well, and makes the miles almost twice as long. Oh well, it was good practice to get ready I guess. So I finished and then waited a few minutes for Angie to come in, and then we wandered about. It was a chilly drizzly day so I got really cold after that, so Teresa and Donna finished (they had only planned to walk it so it took them a wee bit longer). After that we waited around for prizes to be given out, and then Teresa and I came back to Topeka, went out to eat at Sun's, and then went to work for a bit. It was a slow day at work, not many patrons, so after all that I came home and went to sleep, and sleep I did.

- April 28, 2006 -


After work I went to see the Coble-mobile- it's a sad, sad mashed up mess. I took a couple pictures of Teresa with it and then helped her gather her personal items. With the Hilltop Hustle tomorrow... I came home and went to bed.
- April 26, 2006 -

Last night Teresa was in an accident- she is ok, but her car is very un-ok. I pondered I'd buy her some plant-able flowers for her pot garden to cheer her up; buying plants is probably very low on her list now.

Tonight I purchased 25 shares in BHP Billiton Limited on E*Trade. I've really gotten into the stock trading lately with guidance from Eric, a friend from online that I've known for years. BHP is a supplier of metals, mostly gold, silver, copper, etc. I also have stock in two other companies, GFX (which makes motherboards and video cards), and in the Rocky Mountain Chocolate Factory. So far I've been the happiest with my choco-stock... it seems largely unaffected by the market. When everything goes down, it seems to still go up or remain steady- everyone needs the choco!

I also ran 5K in 31.5 minutes tonight.

- April 25, 2006 -

I went to work today, lots of work to do, but I somewhat got all caught up. After work I went over to Christie's place to help her with her photo and video editing, and showed her a game the grand kids will have fun with for years to come.

- April 24, 2006 -

I got up at the crack of dawn today to walk the doggies- there were several new ones, but most of the faces I knew. After walking dogs I got my hair cut.

This afternoon I got my Tiger Direct shipment! There was one false alarm with a Schwan's truck, but slightly after noon the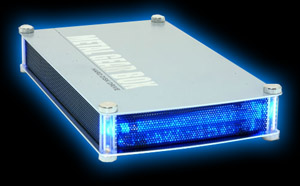 UPS man came and dropped off my package. I ordered a 100 DVDs and a new external drive enclosure, and boy is it nifty! Basically it's a box that you can plug a hard drive into, and then you can connect it to any computer you like for large portable storage. I already have one of these devices by another manufacturer, but this one is really keen as it is less than half the size of the first one, and it has blue LED lighting around the front and sides.

- April 23, 2006 -

I slept in today, it's been my first me day in quite some time, well sort-a. Today I made some CDs for Carrie, cleaned the upstairs, mowed the lawn, helped plant some things and clean up the backyard, and I concluded the day watching the final episode of Voyager.

- April 20, 2006 -

It was very busy at work today- though the bad weather doesn't really seem to keep researchers away, good weather really brings them out! After work I took Todd's computer back to him and hooked up his new scanner, and after that I went over to Teresa's and we played tennis and then planted flowers. When I got home I played on the computer some and went to bed.

- April 19, 2006 -

After work I ran on the treadmill, 5K in 32 minutes.
- April 18, 2006 -

Back to work, Bob was back and shared stories and goodies with the crew. I was really sleepy today... I got like two hours of sleep last night, so today I was pretty groggy. After work I went to Todd's, his computer has Windows ME on it and it appeared that it had developed one of those crazy problems WinME is known for... basically it corrupted a file that it needed to start up, so it'd start and go nowhere. I worried that I'd have to reformat it.... so I'd have to back up all the files, reformat it, install all his programs again, put all his documents back on, and then set up all his devices (printer, scanner & such), and set up his internet service again... So many hours that takes to do... but I instead found a nifty way to use the command prompt via an emergency startup disk to force all the damaged files to regenerate.... or some'n of the sort.

- April 17, 2006 -

Around noon I left Bob's house after packing up all my stuff and leaving him a tizzy of notes about the weekend. I went over to Teresa's then and we played tennis (I won), got a cool treat at the DQ, went shopping at Kohl's and the Wally-Mart. Prices are crazy these days... At Kohl's Teresa couldn't find acceptable socks for under $15, yet I got a couple shirts for $2.50 a piece, and super-keen shirts too. We concluded our shopping spree with fried chicken, also from the Wal-Mart, but it was really good and a great deal.

I got home around 5:30 as Carrie was leaving to go back to Troy, she said that Todd had called a few times with computer trouble so I called him and arranged to come over after work tomorrow. His computer won't start at all so I ponder it might require some serious Craig-time. He's taking classes at Washburn now too, so he really needs it back and working as soon as possible. I ponder putting together a backup computer so I can loan it out when I'm working on someone's computer- not having a computer is like not having a car these days.

Tonight I ran 5K in43:30.

Over the weekend I lost one of my fish- I think it was mostly due to old age, and not because everyone forgot to feed them (they should be able to go a week or more without eating)... I usually feed them everyday though.

- April 16, 2006 -

Easter Sunday; it was pretty uneventful today, I mostly watched TV and read some. One of Bob's neighbor's came over to ask for money to pay a locksmith so he could get back in his home- He did seem to know Bob, and that I was going to be here, (Bob said he'd told a couple neighbors I was staying here) and that he would pay me back.... so I gave him some money.

- April 15, 2006 -

Egads, it was a crazy day. I went to work and mostly did ILL and I scanned several maps for a very giddy lady, finding places on the maps just brought her great joy... Giddy people are fun to help though. I came back to Bob's, opened the door, pushed in the security code- but after I finished it didn't give me the all clear beep... I entered the code again... nothing... "Oh No!" I said to myself... entered it again.... and then the alarm went off. So I started to run about, I tried to enter the code again once more and then ran upstairs... The alarm is louder upstairs I found so I ran in the bedroom and entered the code again... and the alarm stopped. A nice lady then called and I told her the secret password so she wouldn't send the police out to get me. WHEW! Later it began to rain really hard, and hail. I was upstairs fixing something to eat and watched it rain... so then I went downstairs to eat and I noticed that there was water in the basement. It came from one wall and was slowly snaking its way to the utility room so I began to herd it and soak it up with a towel. Bob told me that it could happen if it rained really hard, and he said there was a mop, but in my panic I couldn't find it, so I ran upstairs to put my shoes on and I grabbed the nearest towel. When I got done soaking up the water I went to turn the light off, and noticed that the mop was right next to the switch.... Hmmm, that wasn't hard to miss.

On the news tonight they had a tornado photo someone sent in from Holton. There was a second area in the clouds where another tornado was forming.

- April 14, 2006 -

I'm house sitting for Bob over the weekend, today I went to work later for just a half day so I could get some things done in Holton, get some food for the weekend, do projects for Carrie, and get the exhaust system fixed on the Buick (though Dad did that- I just had to wait for it to get done). It was either stay Friday morning at home and get everything done, or drive back and forth each day, and with gas going up (supposely for the entire summer) I pondered this was best.

On my way to work I took 21st street which is two lanes in both directions with a center lane... a few blocks from Fairlawn a distraught handicapped woman went running out into the road (in the middle of lunch hour rush) Cars were stopping and many were honking, I'm not sure if they were irately honking, or if they were just honking to try and warn others to pay attention. So she went running out, and soon another lady came running after her screaming all the while. At work I pulled ILL, put some more time in on my NP filing project, copied stuff out of a few books, and random other productive and non-productive things. The stacks seem to suddenly be falling apart too.

- April 13, 2006 -

Egads, last night my 21" CRT monitor flickered and did bad things for a moment- I lowered the resolution down from 1600/1200 and it seems to be happier, but I hate to ponder that it could be reaching the end of its useful life span. Also malfunctioning is the ftp server for my website, which is why I've not updated my site recently.

I started to house-sit for Bob tonight- We went out with Teresa for Thai food, and I got a medium hot curry dish and it was really hot.
- April 11, 2006 -

After work tonight I went over to Brent's to install his ram and organize his image files- I hope that getting him to be organized early on in his business will be something he can maintain.

I ran 5K in 36:39 tonight.

Last year there were over 80,000 incidents of civil unrest in China. The number of incidents increase by at least 10,000 each year as China's rich/Communist Party affiliated get richer, and the peasant/farmer class remains poor. Once in China education was free, but now it costs more than most can afford to pay, and less than once cent per person is spent each year on health care meaning that most in the countryside do now have any form of health care. By the millions the peasants have flocked to build the new face of China. They work in construction and in sweat shops. These workers are not allowed to move to the city with their families, they stay in dorms with twelve to a room, and when their job is over, they are forced to leave the city. On Frontline tonight there was a program on China... it also went into how US Technology companies have helped the Chinese government crack down on those that criticize the government. There were several interviews with textile workers and college students... One group of students were shown the picture of the student who stood in front of the tank in Tiananmen Square and were asked to explain what the context of the image was; they were confused, and pondered that it could have been a parade, or that the man was directing the tank how to park- the events of the student protests of 1989 have been totally erased from Chinese history to those in China, and if they Google it, or similar topics they are given sites only the Chinese government has approved.

- April 10, 2006 -

Today I mowed, cleared dead plants and cut all the vines off the fence around the backyard. I also got a package from Tiger Direct today with Bob's DVDs, Brent's Ram, and Marilee's new mp3 player.
- April 9, 2006 -
Today Donna, Teresa, and I went to Lawrence to walk around the KU campus to prepare for the Hilltop Hustle so we know where we're going. After that we went out to eat and then wandered Mass Street for a bit. Tonight I ran my usual 5K in 37 minutes, 43 seconds.
- April 8, 2006 -
I went to work today, it was somewhat slow but there was enough to stay busy, and I got ILL stuff done too. I got my state refund back today, just $19 but I guess that's ok- I didn't have to pay at least.
- April 7, 2006 -
Thirty nine minutes it took me to run 5k tonight. It took a couple weeks but I'm now completely caught up at work.
- April 5, 2006 -
I ordered an mp3 player for Teresa and got it in the mail yesterday along with my new mouse. Teresa giddily showed off her new toy today- I might be placing more orders in the future for other co-workers I ponder. My mouse is pretty keen; optical with a blue LED light in the scroller wheel.
Tonight I did 5K on the treadmill in 42.5 minutes. I ran the first third with some incline and the rest on level ground. This is an improvement from my former best time of 48.25 minutes on March 14th which I ran all on level.
- April 3, 2006 -
Sunday, today Teresa and I went to Donna & Mike's to work on their nature trail. On my way to Teresa's it rained on me most of the time, but when I got to Topeka the sky seemed to clear- but then all of a sudden it started to hail like crazy. It only lasted a couple minutes though, and when it was over the radio had a severe weather alert about the hail and high winds. At Donna's I worked on making stairs up a creek bank- it turned out pretty neat actually.
- April 2, 2006 -
Went to work today- it was very busy, and I'm still not caught up yet. After work I went over to Bob's to look at his computer which suddenly became antisocial with its video capture drivers. After it was happy again we went out to eat at Wahoo's, I had the Caribbean Chicken and it was very good.
- 2001 - 2002 - 2003 - 2004 -
2005 - Jan - Feb - March - April - May - June - July - Aug - Sept - Oct - Nov - Dec -
2006 - Jan - Feb - March - April - May - June - July - Aug - Sept - Oct - Nov - Dec -
2007 - Jan - Feb - March - April - May - June - July - Aug - Sept - Oct - Nov - Dec -
2008 - Jan - Feb - March - April - May - June - July - Aug - Sept - Oct - Nov - Dec -
2009 - Jan - Feb - March - April - May - June - July - Aug - Sept - Oct - Nov - Dec -
2010 - Jan - Feb - March - April - May - June - July - Aug - Sept - Oct - Nov - Dec -
2011 - Jan - Feb - March - April - May - June