- 2001 - 2002 - 2003 - 2004 -
2005 - Jan - Feb - March - April - May - June - July - Aug - Sept - Oct - Nov - Dec -
2006 - Jan - Feb - March - April - May - June - July - Aug - Sept - Oct - Nov - Dec -
2007 - Jan - Feb - March - April - May - June - July - Aug - Sept - Oct - Nov - Dec -
2008 - Jan - Feb - March - April - May - June - July - Aug - Sept - Oct - Nov - Dec -
2009 - Jan - Feb - March - April - May - June - July - Aug - Sept - Oct - Nov - Dec -
2010 - Jan - Feb - March - April - May - June - July - Aug - Sept - Oct - Nov - Dec -
2011 - Jan - Feb - March - April - May - June
Songs of the Month:
Paper Cut - Linkin Park
Not Ready to Make Nice - Dixie Chicks
Quote of the Month:
"We can't solve problems by using the same kind of
thinking we used when we created them." -Albert Einstein
Ferengi Rule of Aquisition of the Month:
Rule 284: Deep down everyone's a Ferengi.
Factoid of the Month:
"Fereng" is Farsi for "Westerner"
- June 29, 2006 -
I came home after work and took a nap and am now packing for the Colorado trip. I'm not sure if I'll be able to upload my blog while I'm in Colorado, but I'll hopefully have a lot of photos and fun stories to tell when I get home.
- June 24, 2006 -
It was a productive day today- I cleaned the upstairs, did some laundry, vacuumed out the fish aquarium and bundled new plants for it, pulled the older lily pads in the pond and so far tonight I've just been playing with the new scanner. It's a Microtek ScanMaker 9800XL (12/17") with a Transparent Materials Adapter 1600. I've mostly scanned in slides so far, and it seems to work quite nice.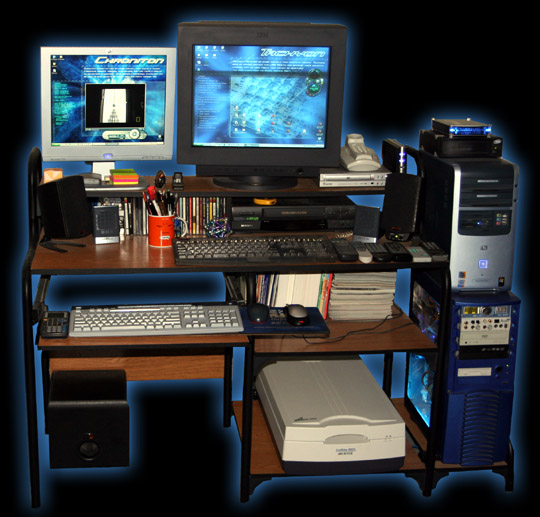 - June 23, 2006 -
It was my first day of working in the photo lab, I not sure what ratio of my time will be in the photo lab compared to the microfilm lab exactly, but it will probably mostly be in the photo lab since that is where they're going to set up my primary work station. Since I don't really have a place yet, most of the day I followed Craig and Barry around, and watched how they did things... we also got to go out to the overpass behind KSHS to wave flags at the caravan that was going by celebrating the 50th anniversary of the construction of the first interstate highway. Later in the day I got to go to the Capitol building with Craig... I need a new name cause it's just confusing.
- June 22, 2006 -
Today was my first day working in the Microfilm lab. I did some quality assurance checking and I started to get into how everything works in the lab for archiving their work.
After work Teresa & I went shopping to get ready for the Colorado trip, but it turned into a daring night of animal rescues. First there was a house that had goats out in the yard- One though had managed to put its head through the fence, but because of its horns it couldn't pull its head back out. We went around the block, and then went to the house to knock and tell the owner of the plight of the goat. Later that night in a parking lot a wee little kitty came out from under Teresa's car- and then went back under it for cover. Several little children then appeared and we all surrounded the car and finally were able to capture it. It was their kitty, so they meandered off happy.
- June 20, 2006 -
It was super-busy at work... it was day one of a two-week teacher group, so it was hard to keep up, let alone catch up.
My new scanner arrived today, ok..... Who wants my old scanner? It's an Epson CX6400, the scanner works nicely, it has a combo media card reader.... and the printer part of it is meh and doesn't work, but it's a very happy media card reader and scanner. It shall go to the first person that e-mails me and wants it- it's also free.
- June 17, 2006 -
Saturday, it was supposed to be a work day for me, but I worked a few more hours earlier this week and took today off to do more Veatch fence painting. I think it's mostly done now.
Tonight we got a much needed storm that soaked and filled up the streets. The grass had started to brown, so it was nice to have a really big storm. I wrapped Dad's Father's Day gift, and did some work for Susan.
- June 16, 2006 -
It's been very busy at work this last week and I've been swamped with stuff to do, but it's also been a very good week for me. My stocks had fallen a considerable amount, but I'm back to where I started out... there are strong new job prospects, and trip time to Colorado is rapidly approaching.
After work I went out to eat with Mary Lou, Teresa, Kirsten & Carly at Johnny Carino's, and then I went over to Susan's to help her with some stuff.
- June 15, 2006 -
Today was a pretty nifty day, I give it a ten! My stocks were happy and gained some... they had a huge drop the other day, so I'm almost back to where I was. After work Teresa and I pondered we'd go play tennis, but as it was a wee bit hot still so we went out to eat at the Tuptim Thai. We did some shopping after that, and then meandered the botanical gardens out at Lake Shawnee... after that it was super tennis playing weather.
- June 11, 2006 -
Tonight was the Tony party at Mary Lou's house. Quite a crowd gathered to cheer on her sister Jayne for her nomination for best performance by a featured actress in a play. Jayne didn't get to take home the Tony, but she received other awards, acclaims and great reviews for her part in Well, and it is huge even to be nominated for the Tony-
- June 10, 2006 -
Today Teresa & I went to Joe & Cynthia's to move bushes. We tend to underestimate the difficulty of some jobs, and this one really kicked our butts. It was very hot and dirty, but we got three bushes moved, and three new ones planted in their place in the front... it was actually a pretty good day. After we got back to Lawrence we shopped a bit and watched TV. I came home, took a shower, and then had a nice nap.
- June 9, 2006 -
I have today off so I played with the stocks and in the fish pond some.
- June 8, 2006 -
Today at work I got the worst paper cut I've ever! It was like an atomic papercut... Egads, the hazards of working in a library. After work Letha, Bob, Teresa and I went to see The DaVinci Code... I thought it was a good movie- I don't believe it, but it has been good for the European tourist industry I guess. Before the movie I went to the mall and picked up something for Dad for Father's Day.
- June 7, 2006 -
It was a very good day today. My neck is much improved and I have a normal range of motion once again! Overall the market was down, but my GFX was up, so now I'm just above where I got into the game. I unloaded most of my stocks except for my RMCF (choco), which was my first stock purchase, then I have a super cheap penny stock that I would sell but it's not worth the charge to sell it even... and then there's the GFX which I have most of my money in. They make toner and ink for printers.
Tonight I dug up some flower beds, mulched, watched the telly and played games on my laptop.
Carrie went apartment hunting today with Jeff and I guess they both decided that they would move to the Mount Vernon Apartments, but do so separately. They allow pets so she can take Chichi- many of the places she looked didn't allow pets.
- June 6, 2006 -
I woke up with my neck a wee bit better, but it still hurt a bit- I wonder how exactly I damaged myself. When I look up or to the right it hurts the worst... kinda like having a sort muscle. I felt a little gimpy at work, but by the end of the day it seemed a lot better.
- June 5, 2006 -
It's my Monday off. This morning I was stretching and somehow pulled a muscle in my neck. That kinda pooped on the rest of the day as now it kinda hurts to look up or to the right, but I can stare at a monitor just fine. Stocks were very down today.
Yesterday Teresa & I went and repainted the front of Lin's house.
This weekend Bob, Teresa, and I went to Mickey's Brother's farm to camp. We were going to camp out anyway, but it was supposed to rain that night, so we just went out to have hot dogs and marshmallows over the campfire. It was decided that we would not stay the night until that day, so I had all my stuff... I took way too much stuff too, my telescope, remote controlled boats (which had battery packs that couldn't hold a charge). It was a lot of fun though cooking out.