-- Dec 27, 2009 -
Mom & Dad and Carrie & Jason came over today for Christmas, Mom bringing most of the food, but I did make a few things too. The parents got me a hutch for dishes and such, but due to the weather they'll bring it sometime later.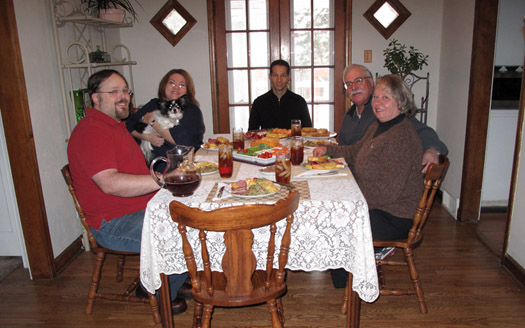 - Dec 25, 2009 -
It was the blizzard of '09! The Governor let us go at 2pm yesterday for the snow, and I crawled my way home- we were going to have Christmas here today, but now I'm stuck in alone, and it doesn't seem like anyone is going to brave the arctic wastelands to get here.

- Dec 8, 2009 -
I stayed home today since I had a day off I needed to use up anyway, and it was yucky out. It's snowing again tonight, and it's supposed to get really cold and really windy. Meh.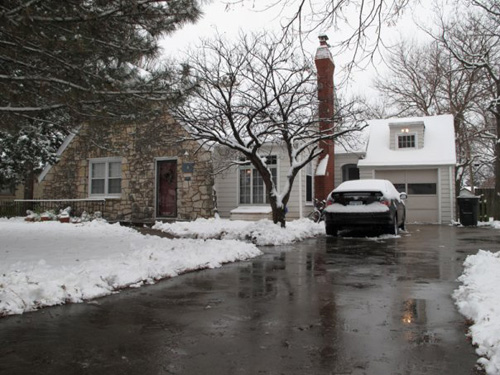 - Dec 7, 2009 -
It's hard to believe that I'm rapidly closing in on being in the house for one month- I guess I should try to get it cleaned up enough that I can take more pictures or post some of them on Facebook. Last week Nikaela came over and we were just going to help her get a Christmas tree; we decided to stick with the good old fake one again this year, but the plan flew out the window when I saw a very merry white pine that was just huge for $32. It's just the happiest Christmas tree ever... We got Nikaela's tree and put it in her car, and then they tied ours to the top. The next part is where things got pricey... the tree stand, the ornaments, the topper. We rounded out our Christmas decorating budget at $85- thankfully I guess it's all reusable though. I cut the bottom inch off the trunk of the tree with a hacksaw (forgetting that I had Jesse's bow saw in the garage that would have been much more appropriate). We got the tree inside, and it was still nearly a foot too tall. The tree didn't seem all that bloody tall starting out! So I hacked off the first tier of branches and another good chunk off the trunk and it was golden. We put lights and balls on it, and then last night I went and got a tree topper for it. Currently though there are no stocking, exterior lights, or any other decor; aside from Teresa's old fake tree that got set up in the basement.