- June 27, 2011 -
Yay, tonight we tore apart my bed, now with beams screwed into all the slats, rubber matting around the ends of the slats, and behind the drawers, it's 90% less squeaky! It's pretty awesome!
- June 26, 2011 -
It was to be a carefree evening on the Kansas River... but it turned out to be a grueling trek of hauling a canoe around Riley County. Brad and I went to visit Jesse and Panat and go canoeing, but recent highway construction and fewer ramps into the river caused us to adjust plans from trying to canoe from Manhattan to Wamego, which after we put in and spent forty five minutes in the water, we realized we weren't going to make it to the other ramp where we left the truck in like a day. After an emergency phone call to Jesse's Mom we were rescued and came away making plans for next time.... like next time we'll have a plan!
- June 21, 2011 -
Tonight I put a coat of paint on the ceiling and the room seems nearly complete! Here's a before picture- after I put up new trim, and then the after. I'm still minus a ceiling fan, but hopefully I'll get that resolved soon!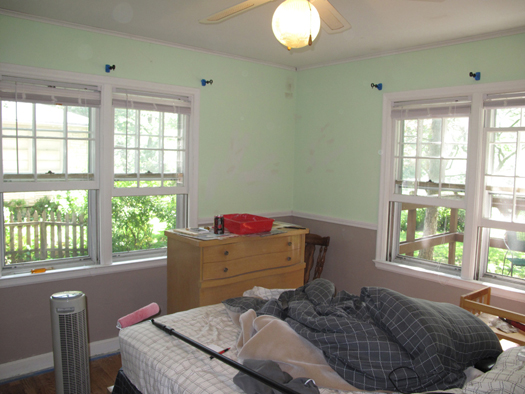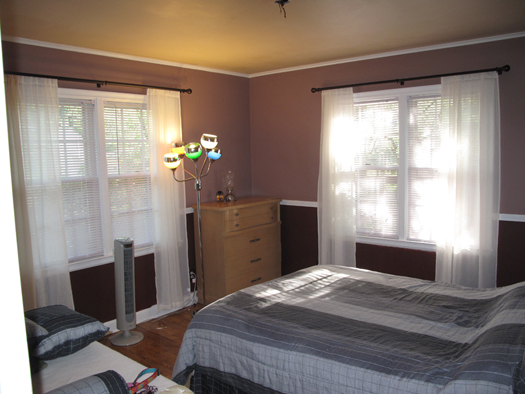 - June 11, 2011 -
Brad and I started redoing my bedroom last night, it's been a year and a half since I bought the house and I've put up with things being less-than-decorated. First thing I did was put up new molding and the ceiling fan, and then we started to pour though colors finally settling on Manzanita, Cougar and Almond Oil. There were a few sample colors we tried that got rejected for one reason or another. I was painting all the molding though and getting onto and down from a chair and at one point I caught my toe on the edge.... Crack! I think I fractured it or some'n. Not fun.
- June 5, 2011 -
This weekend Brad and I organized my clothes- first I tried everything on and Goodwilled a trashbag and a half worth of stuff, and then we built a shelf about a foot off the floor in the closet that I can stack jeans and shorts on. For the first time since I moved in I do not have clothes in cardboard boxes in my room. Next weekend we're planning on completely redoing my room- having stuff everywhere had really gotten in the way of redoing it.
- 2001 - 2002 - 2003 - 2004 -
2005 - Jan - Feb - March - April - May - June - July - Aug - Sept - Oct - Nov - Dec -
2006 - Jan - Feb - March - April - May - June - July - Aug - Sept - Oct - Nov - Dec -
2007 - Jan - Feb - March - April - May - June - July - Aug - Sept - Oct - Nov - Dec -
2008 - Jan - Feb - March - April - May - June - July - Aug - Sept - Oct - Nov - Dec -
2009 - Jan - Feb - March - April - May - June - July - Aug - Sept - Oct - Nov - Dec -
2010 - Jan - Feb - March - April - May - June - July - Aug - Sept - Oct - Nov - Dec -
2011 - Jan - Feb - March - April - May - June