Quotes of the Month:
"From our perspective, looking back, as I say, to a year and a half ago,
I think it's remarkable progress. I think we've turned the corner, if you will.
I think when we look back from ten years hence, we'll see that the year
'05 was in fact a watershed year here in Iraq." -Dick Cheney
Monthly To Do List: Fix Alex's computer, get the backyard pretty again, & do 10K on the treadmill each weekend.
- May 27, 2007 -
Mom was happy this morning; they've had a dog at the shelter for over a year, and they had taken and put up pictures of it, but last week I went and took new photos of it, and the next day they had two people inquire about adopting it.
Governor Bill Richardson was on Meet the Press today... I'm not so fond of him. He just seemed way more flippy-floppy than Kerry was ever perceived to be. The NRA supported his last gubernatorial run since he was not against assault weapons, He was for nuclear power, but was against the storage of nuclear waste in New Mexico, which is one of the best places to keep it. Even on the issue of his favorite sports team he had different answers depending on who he was talking to.
- May 26, 2007 -
It's Carrie's birthday today so she and Jason came up and we went out to eat at Boomer's. They are celebrating Holton's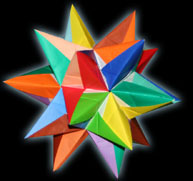 birthday this weekend too, the 150th sesquicentennial. Aftter that I took a nap and caught up on all my sleep, cleaned, did some origami, and watched some Stargate Atlantis.
Wilma Gibson, my Great Aunt, passed away late last night. She lived in a nursing home here in town with Orvile, her husband. She was in the hospital a few days though and Uncle Alan came up from Arizona to be with her.
Grandma is not doing well. She started off slowly telling stories that someone was walking around on her porch at night, and then progressed into saying she let the man in because it was raining, so she told him he could stay in the basement, and then she locked him in the basement. She also told my Mom & Dad that she ordered food (from a place that didn't deliver). Today she told Mom that she wasn't going to finish her soup... and to give it to the guy with a beard in the dining room. Grandma really isn't capable of getting up and doing anything, but she's very opposed to going into a home, so Mom & Dad both go a few times each day to take care of her.
- May 24, 2007 -
Went to see Shrek last night... I slept through part of the middle though. I've not been getting enough sleep lately- when I got home tonight I pondered I'd go to bed early, but I just ended up waking up around midnight, so now I can't sleep. Today at work I switched out a computer, went to the normal Wednesday tech meeting, and did photoshop training- OH, and today is Christie's and Darrell's birthday, so there were goodies all over. After work I went over to Carrie's to try and figure out why Jason's computer could not connect to her router... I could not figure it out.
- May 22, 2007 -
Lots going on... last weekend Teresa and I stayed at Matt & Judy Veatch's for a house concert Saturday night and working in the garden Sunday morning. Work has been incredibly busy lately- everything has just been very busy. Tonight a group of us went to see Shrek 3, but I slept through the middle of it.
- May 16, 2007 -
Wow, a political bombshell today.... Former Attorney General Ashcroft was not a well-liked person by Democrats, Independents, or even some Republicans, but it was revealed that he was against the NSA wiretapping and considered it to be illegal and refused to sign off on it. On the eve of the expiration of the law he was hospitalized and was so sick his deputy was made the Attorney General, and he too was also against how wiretaps were being carried out- He then got a call from Ashcroft's wife because two of the President's men were trying to get were trying to get him to sign off on it.... in great pain and under strong medication Ashcroft was still lucid enough to tell them that he was against it, and that he was not currently the A.G. and any signature would be meaningless. Who were the two men trying to do an end-run around the system? ...Andrew Card and the current A.G. Alberto Gonzalez.
- May 14, 2007 -
Ubuntu Studio is out... but now I ponder if it's even worth getting. Ubuntu is a free Linux operating system

which I use some at work... the studio version is focused on audio, video and image editing.... but with Ubuntu all of the software is easy to add on later, and I've already added most of the best software to the copy I run, so really there is no reason I can find for me to get it.
- May 13, 2007 -
So far it's been a good weekend... Friday I watched the Stargates- SG1 was interesting because they went to Cameron's high school reunion which was in Auburn, Kansas. Today I went shopping with Teresa for a Mother's Day gift, and we ate at the Tumtim Thai. After that I came home and took a nap with Weazer & my kitty, and then I planted some things in the backyard and worked on the pond some.

- May 8, 2007 -
It was a good day- A big group of us went out for lunch to Tailgater's for burger day. After work I came home and took a nap, mowed the back yard, pulled weeds and planted some seedlings.
Eleven Republicans from Congress descended on the White House yesterday and bluntly informed the President that he no longer had any credibility to address the American people on the issue of Iraq, that his spin on the war needed to stop, and that when information about how the situation in Iraq is delivered it should come from a general first hand. Members of the group in the meeting then promptly informed the media of what was said.
- May 6, 2007 -
This week went by super quick! I've mostly worked on training things... that's pretty much all I did. This weekend I got a few things done- my main weekend goal was to fix Alex's computer I've had forever. Last week I ordered a new hard drive for it, and it took a wee bit of fiddling- XP and SATA drivers can be a pain.
- May 2, 2007 -
I got my new LCD monitor and eSATA drive kit tonight, both are very nifty.