- 2001 - 2002 - 2003 - 2004 -
2005 - Jan - Feb - March - April - May - June - July - Aug - Sept - Oct - Nov - Dec -
2006 - Jan - Feb - March - April - May - June - July - Aug - Sept - Oct - Nov - Dec -
2007 - Jan - Feb - March - April - May - June - July - Aug - Sept - Oct - Nov - Dec -
2008 - Jan - Feb - March - April - May - June - July - Aug - Sept - Oct - Nov - Dec -
2009 - Jan - Feb - March - April - May - June - July - Aug - Sept - Oct - Nov - Dec -
2010 - Jan - Feb - March - April - May - June - July - Aug - Sept - Oct - Nov - Dec -
2011 - Jan - Feb - March - April - May - June
- April 19, 2003 -
Dad has off this weekend, so we've worked on the '55 some. I've used my mp3 player while I do it to, but I think I might stop... cause I don't want to get it dirty. I did find an image of it though, 03pendrive.jpe. I got my fan controller bay last night, and got it installed with a lot of problems, but everything works again now. It's a horrible mess of wires now *L*
- April 11, 2003 -
Right now I'm at Robert's house sitting for Winston so I brought the laptop to do a log and play some. Tuesday I had an interview with USD 336 for a technology assistant job, and I met with the superintendent and Tom Sextro... it went pretty good, but Tom said he'd notify by Thursday, and it's Friday. I was gone though, and our phone is always busy, so perhaps he's tried to call. It would be a neat job, only eight an hour, but I'd get free internet, laptop and some other nice benefits. I guess we'll see.
I got a new bit of technology this week... a Hiro 128MB Pen Drive/MP3 player/voice recorder. It cost me $140ish, which was pretty good I though, I was looking at pen drives, and saw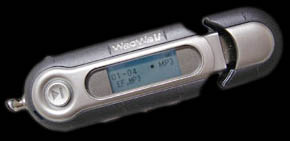 the one with the built in player, so that pushed me over the edge. I still have $15,000 in the bank, so I think I can spend some on nifties... and I've picked some more out, nothing too pricey, just really neat things, a snake light that plugs into the USB port, a bay insert that can control a processor fan that has an LCD, two USB ports, and a firewire port. I don't think I'll be able to make the firewire port functional... but I already have another firewire port in the front anyway... and I also pondered a cold cathode blue light for the flo
or of the case... then I think Tachyon will have reached the third level of it's evolution. ...the first being construction, and the second being when I finally got it working good... not that it wasn't cool before, but now it will be a lot more awesome. The Pen drive is pretty cool though. I got it cause mom was always walking with my Diskman, which wasn't very good for walking, and I thought it was so cool that I got it, because it's so small, so you don't have to hold onto it, it just hangs from the head phones, where before she'd carry around a CD player that was almost ten fold the size, and then it would skip if it wasn't held still. It's fun to have new toys, I think the USB light was $8, the cathode kit was $16, and the bay was $35, so about $60 or $70 it will cost me after shipping.
- March 14, 2003 -
It's been a long time since I've written in my log, and pretty much little has changed in my life for good or bad. I did get back into ST RP but I consider that a good thing, even if some would think it to be a waste of time. It's always fueled me to learn more about computers and graphics, and I've picked up the newest version of Photoshop, and some good 3D skills, so I think it's a good thing. I've also been working on the '55 more, sandblasted some parts today, but we only get an hour of time each day to actually work on it, so it goes so very slowly. Eunjoo came back from Korea this week... she really wants me to go back, because her brother is thinking of moving there and buying a house so he can learn Korean better... I really don't think I want to move to Korea and live for a year there though. I've been working out a lot more, pushups and stuff, but I still need to do more. Miyako wrote me back the other day and asked if I was coming, and I said that since I didn't hear from anyone I decided not to come, because of that, and people that had wanted me to come were busy, and Yuka had got a new job, so it wasn't a good time for anyone. It's just very difficult now, because I got her hopes up that I'd come, and she told her parents that I would come too. I wish she would have wrote back a month ago... she did, but just like "I'll talk to my parents and see." but nothing after that, so I feel bad that she now wants me to come.
- January 11, 2003 -
Welp, it's another new year, it's been quite a while since I've written in this, perhaps things are more boring now, but really I think it's that I don't have very many problems, and I tended to just write about things I was unhappy about.... and I'm really pretty happy these days. Even still, I'd like to resolve to do this more often.
Tachyon is running great these days... I went to Michelle's the other day and got Gabe's computer to work on it... it's going to be tough, and I really need to sit down with it again.