- 2001 - 2002 - 2003 - 2004 -
2005 - Jan - Feb - March - April - May - June - July - Aug - Sept - Oct - Nov - Dec -
2006 - Jan - Feb - March - April - May - June - July - Aug - Sept - Oct - Nov - Dec -
2007 - Jan - Feb - March - April - May - June - July - Aug - Sept - Oct - Nov - Dec -
2008 - Jan - Feb - March - April - May - June - July - Aug - Sept - Oct - Nov - Dec -
2009 - Jan - Feb - March - April - May - June - July - Aug - Sept - Oct - Nov - Dec -
2010 - Jan - Feb - March - April - May - June - July - Aug - Sept - Oct - Nov - Dec -
2011 - Jan - Feb - March - April - May - June
Favorite Movie of the Month: X-Men III
- May 30, 2006 -
It was a great day today so we resumed fence painting as Teresa and I both had the day off. We got a lot done, but there is still more to do.
- May 29, 2006 -
The plan for today was fence painting, but it was pouring, so Teresa and I went shopping a bit, and then we went to X-Men III with Bob. I think this will be the last of the X-Men movies with how it was concluded, but perhaps they will make another someday, that is the rumor anyway. The previews for up-coming movies was rather dismal aside from Superman.
- May 28, 2006 -
Lots of painting going on this Memorial Day weekend- I painted our garage on the 26th, and then the front porch yesterday.
- May 25, 2006 -
Today was a great day! The weather was good, and it just seemed like everyone was happy. Sara said her goodbyes as she is now off on here whirlwind tour of the UK. I realized tonight though that I'm nearly done with DS9 season three- but Teresa is house-sitting, so she can let me make the exchange for season four.
It's Carrie's birthday tomorrow, so today I ordered her some flowers to be delivered to the school tomorrow... it's what she said she wanted. Today she called and told us that she got the job at Shawnee Heights. She interviewed with them, and they said that they had a lot of applicants, and that they would be notifying her one way or the other by Friday, but Friday came and went, so she was a little down thinking she didn't get it. Now that she has it... I guess it's moving time again.
The stock market was very good to me today. Teresa and I are matching our guessing abilities by comparing my stocks to her imaginary holdings of equal value... today I made $100, and she lost $9. I'm still slightly under what I put in to start with, but I was happy to have an up day.
- May 24, 2006 -
My TigerDirect shipment came today, the notebook just flies with all the ram and I've finally passed an important computer milestone today; I now have a total storage capacity of 1,219,758 megabytes or 1.2 terabytes. I also increased my network transfer rate from a lowly 10Mbps to 400Mbps between Chroniton & Tachyon. Neutrino still networks via wires at the slow rate, but I'm pondering the next upgrade will happen soon.
The market has been very much in a downward spiral lately... It came up yesterday but today it continued down... so far I've lost $122. Teresa picked out some stocks that she is mock buying, so we are going to see who is better at guessing.
- May 23, 2006 -
Tonight after work I went to the post-work yoga time in the lobby- and it was actually pretty fun. I stopped going to karate in November, and I missed it for the stretching aspect, so maybe I'll keep with yoga better, and if not it is certainly something good to learn more of for now. After yoga time Teresa and I went out to eat at El Cazador.
- May 22, 2006 -
This morning I got my hair cut, and I also moved a couple goldfish from my aquarium to the pond. The water lilies began to flower this week, and the brugmansia has four flowers that are getting ready to open. I think I like the cold much more than I like the heat- why can't there be more nice days in the 60's?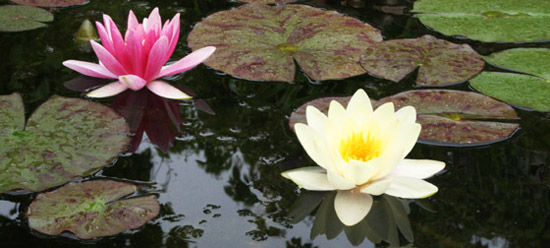 Yesterday Teresa and I did another section of the Veatch fence. That evening when we got back to Topeka we looked at cars some. I saw a nifty Toyota Celica I really liked, but it was over $16,000- I don't think I want to spend that much on an auto...
Saturday I went to work, and then felt like I was getting a sore throat. Carrie came home for the weekend sick, and she always likes to share things like that. Saturday night I ordered some new technology. A 1024mb chip of ram for the laptop, a new 250GB hard drive with an external drive kit, and a couple network cables.
- May 18, 2006 -
Today was a big day! I went in at 7:30 to go to Teresa's, and then we went over to Bob's.. and then the three of us were off to Manhattan to look at Teresa's new car. She had changed her mind on the Elantra, and we had planned to go to KC today to look at a blue Civic, but this morning she went on the internet and found the same model, color and everything for $1500 less in Manhattan. We got there and looked at the car, gave it a test drive, kicked the tires, and Teresa decided to get it. She started in on the paperwork, so Bob & I meandered the lot, and then meandered about the mall, so after an hour we went back to see how things were progressing, and then came back to Topeka to go to work. Teresa spent the rest of the day meeting with bankers and meandering about waiting. After work Teresa was giddy to show off her car... actually she was really tired, but I bet tomorrow there will be a great deal of giddily showing people the car.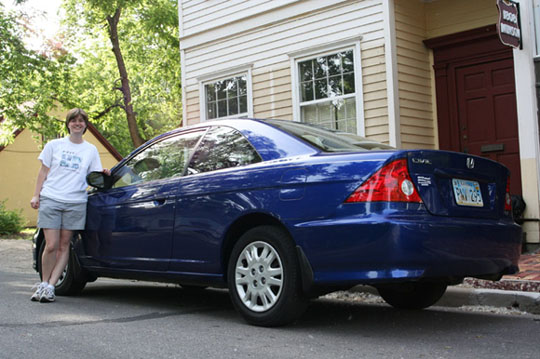 - May 15, 2006 -
Today I worked in the pond a bit- the umbrella palm had gone crazy and grew outside its pot so I broke it up and put it into three pots... that task took several hours. After fighting the roots I worked on the waterfall and installed a new pump.
Carrie has an interview tomorrow with Shawnee Heights, so she came home around six and brought me Taco Bell... It's bad when Carrie bring Taco Bell.... that means she requires some sort of huge favor. She wanted me to go with her to the Shawnee Heights district office tonight so she'd know the way there for sure- it was not what my ideal plans for the evening would be, but here I sit in the car, watching the sun set.
- May 13, 2006 -
All day today Teresa and I went looking at cars from here to KC... Car salesmen can be so tiresome. There were some that weren't that bad, most were actually very good and were very forthcoming with very good deals and were not pushy, but there were a couple that fit the stereotypical car salesmen mold. After all the looking about we went to Lowe's and I couple hastas for the backyard.
- May 12, 2006 -
This morning I got up and walked dogs at the shelter, took a nap, cleaned the fish aquarium, went to the Holton greenhouse with Carrie to get more stuff for Mom, planted stuff in the backyard, and pulled some plants out of the fish pond. I fear I left out a couple plants that I should have brought in for the winter, so they were dead- I also pulled out a ton of oxygenator plants that had taken over the pond. Some of the flowers are starting to bloom, irises and lilies mostly so far. I ponder getting/making something better for the waterfall area.
The stock market has been going down the past couple days... yesterday it was because of fears of inflation, and today an oil pipeline ruptured in Nigeria. I'm still more on the plus side from where I started though. I saw today that some companies that once outsourced work overseas is now bringing jobs back to the US. New Balance now makes 25% of shoes here in the states. They are now the only shoe company to have a plant here.
- May 11, 2006 -
After work I went shopping with Teresa.... I finally took a huge stack of old magazines (like 2') to throw in the Wal-Mart recycle bin. We ate at the Subway there, and I got a new bulb for my fish aquarium. It takes a special 48" fluorescent bulb, so I got that installed tonight and the fish are happy to be able to see again... it's not really as bright as the first bulb it came with, but it will do nicely I think. After that we went to Lowe's to look for a Mother's Day gift... I got a Brugmansia Arborea. It's a very small tree that has lots of huge flowers most of the year. It doesn't like to be out below 32'F though, so perhaps we'll have to dig it up and bring it in...
- May 10, 2006 -
Robert came back to work today, he'd been off in Missouri working on film projects. After work I went over to Brent's to back up all his important data, and then we went over to Angie's to eat Chinese and to look at her computer a bit.
- May 9, 2006 -
Today after work I went over to Brent's to look at his computer which didn't want to go online anymore. I tinkered on it for a bit and found that it had adjusted the firewall settings to block all traffic... I'm not really sure how it happened. After that I went over to Teresa's to play with I-JubJub, which is what she named her new mp3 player. We took some of the songs off of it with my laptop and then we went out to eat at Sonic. To conclude the night I came home and put together an adoption ad for the humane society with the pictures I took yesterday.
- May 8, 2006 -
Today I worked in the backyard some, took pictures of dogs at the shelter, repotted my biwa tree, and accomplished various other minor things.
I added a picture of Teresa's mashed up car to my April blog.
- May 7, 2006 -
Today Teresa and I went to Lawrence to wash windows and paint some more on the fence at Matt & Judy's. It was a very overcast day, but it was very nice. After painted we got ice cream and peroozed a dealership to look at cars. Tonight I moved some of my files to Neutrino after reconfiguring my network so I can now blog on the go.
- May 4, 2006 -
Tonight was Donna's birthday/going away party at O'Doolie's. It's hard for me to imagine how we will get by without Donna at work. At the
end of the day today everyone decorated the office with balloons and streamers as tomorrow is her last day, and then she and Mike are going to go to Albuquerque to ready themselves for their move.
After Donna's party Teresa and I went to Kohl's to look around for Hawaiian shirts as Friday is Hawaiian shirt day. We didn't find any that were half-way decent, but I ended up getting a pair of swimming trunks that were pretty keen. When I got home I started taking off all the labels, and one caused me to plex... It stated that every time the shorts were washed it would continue to fade to add to the vintage style.... WHAT?!? This is a built-in clothing feature now?
After the Kohl's shopping I went over to Brent's because he was oober plexed at why his internet was down. After plexing for quite some time I was unable to fix it. Brent had called COX the day before... and they told him it was working, and that he should call Symantec (His anti-virus software... I guess they just like to redirect people to bug some other company). Since COX pondered it was his anti-virus, I uninstalled
that just to see but the problem was unchanged... and then I noticed that Brent had turned off his modem. He made it well worth my while for making the visit though.
I got my laptop today and I have named it Neutrino- I wasn't expecting it until tomorrow, but TigerDirect is usually very speedy with their shipping. I started to load it up with stuff. I also got a nifty backpack slash carrying case to go with it. Normal laptop cases are more likely to be stolen, as it's clear as to what is inside so I opted for the backpack designed to hold a laptop- and I can carry more stuff if I want to with it. Now I'll be out and about computing on the go. I got it all for about $450, I great deal really- sure it's not the bestest fastest laptop ever made, but I felt it would get the job done that I needed it to do so I had to have it.
- May 2, 2006 -
10% of Mexican citizens live in the United States.
- May 1, 2006 -
I got up this morning and went to the shelter to walk dogs- I only walked three of them as there were a few other walkers.
Today there are protests going on all over the country over immigration- They began because Congress debated making people who came here illegally (or those that came legally but stayed illegally) instant felons. The protests really push for the opposite extreme though wanting amnesty for everyone that is here, and no obstacles to be put in the way of those that want to come here. Both extremes are horrible ideas; extreme views tend to be though... Here is my list of what I ponder should be done:
1) We must build a barrier to keep people from illegally entering the country.
2) Repeal the law that gives citizenship out to babies born in the US (grandfathered in).
3) Provide amnesty to anyone here illegally if they have a US citizen in their family, do not have a criminal record, will pay back taxes, & will learn English.
4) Deport those that have broken serious laws.
Last week the Mexican Congress passed a bill that would legalize possession of small amounts of marijuana, ecstasy, heroin, and other very serious drugs. Egads!
Archaeologists have uncovered what could possibly be the largest pyramid ever built by ancient humans in Bosnia. It had been covered by dirt and is now being dug out- so nifty.