- July 26, 2010 -
Mondays are tough- I just didn't want to wake up this morning! Life is great though aside from needing a bit more sleep. I started taking folic acid and cod liver oil- I feel pretty awesome, at least my digestive system is being pretty happy over it, and that makes me happy;
Teresa and I went and got a couple fish and a snail for the fish aquarium tonight, and it's ended in a fatality. I set the tank up last week and let the water sit for a while, and then we started off with just a couple fish just to make sure everything was happy, but one of the new arrivals didn't make it. It wasn't acting very well in the bag though, so I don't think it was anything to do with the tank, and the other fish seems happy as can be.
- July 25, 2010 -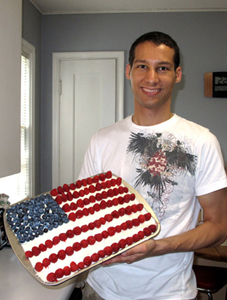 Last night we had our largest party yet for Murl's coming home from serving in Egypt celebration. I made my bestest cake ever; an American flag cake: Chocolate, cream cheese frosting, and then blue berries and raspberries to make up the flag- I greatly over purchased on raspberries.
The party went great; I grilled burgers mostly, and a lot of food was brought in- there was a lot of food. We grouped and talked, and then Murl showed us a slight show of Egypt and on some of his vacations while he was over there- it seemed like a hiker's paradise... for those who are not bothered by the heat.
- July 21, 2010 -
What a full weekend! Teresa and I super-cleaned the house, fixed the mower and used it, did some tree trimming and laundry, went on a date Saturday, and Sunday Teresa and I got bicycles. It's been forever since I had a bike! First we went and got Teresa one at Target, they were very nice there, the employee back in bikes told Teresa she could ride it up to the front, but we didn't cause that seemed dangerous... we got it home though, and it slipped gears very bad and we took it back. We went to the Walmart in north Topeka then and I saw a bike I wanted; we rode them around the row between the bikes and automotive and kinda got a stern: "You can't ride bikes in here." from one employee. We wanted to make sure they were good though. Teresa spent $60 less on hers... and me, I guess I spent $160 more than I though I was going to. We hauled them home- I was most proud that Raider could hold them both! -and then drove them around the block before parking them in the garage. It's bloody hot outside, and muggy, so we'll enjoy them some other day. I need to get hooks or something so we can store them a bit better.
Other new things in my life... I got a Droid X, which is just awesome! Well, it would be if there weren't so many problems. First I wanted to keep my old number from Tracfone, they it didn't transfer quickly, and then Verizon had all sorts of problems activating the phone- it ended up taking a week before everything was straightened out.
-June 13, 2010 -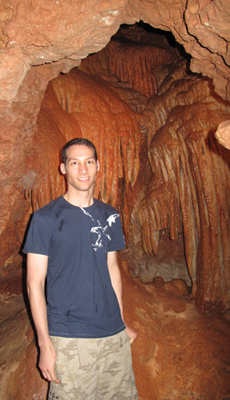 What a great weekend!Teresa, Bob & I loaded up Saturday morning and headed for the heart of Missouri to the Ozarks and Bridal Cave. Teresa has a great love for caves and I do love rock formations.... so we set forth on a 3.75 hour drive Camdenton, MO. Bridal Cave was much larger than what I thought it would be and took about an hour to walk though- there were a variety of interesting formations and it was pretty active with dripping, some people managed to get dripped in the eye when looking up. Going through the cave made me wonder just how many more caves there are out there that nobody knows about. We went to another cave after that, but they had the tour times wrong on their website and we missed one by 15 minutes... we didn't really want to wait around. We did wander a nature trail for a few minutes, but it was really hot and we just wanted to be underground where the weather is always 60 degrees. It was a great trip, and now we're fathoming a more extended stay to take in more of the sights.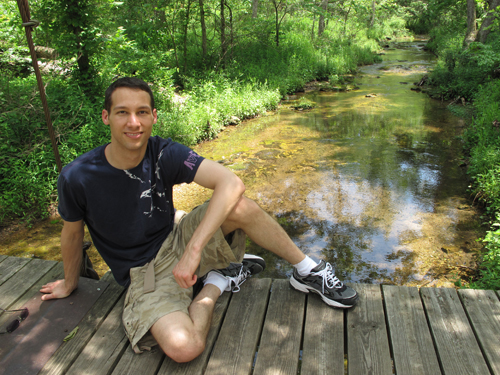 - July 5, 2010 -
Fourth of July weekend! Saturday I went home with Carrie & Jason to eat out with the parents at Boomer's; Mom said she's now been running the shelter for six years in April, and so far she's worked seven days a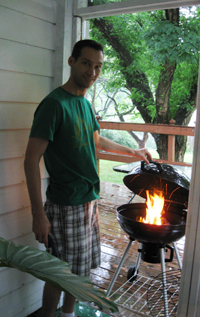 week, 365 days a year for over six years and has only taken three days off in all that time! She mentioned it because a KU student interviewed her because she had to do a paper on volunteerism- she was pretty surprised anyone would devote that much time and effort to something they didn't get payed for. After that we had a good Dannenberg 4th, Dad, Carrie and I loaded up the '56 Chevy convertible with our pups and went out the Banner Creek for the fireworks show.
Sunday was the actual 4th of July- Teresa came back from her parents and we had Bob & Nikaela over for a VERY rainy BBQ- it was difficult to keep the grill hot, but it worked out okay really. It seemed to stop raining at the right time and we headed out to the show at Lake Shawnee. With both fireworks shows it seemed like there were a lot of people who decided to stay home, and it made it pretty nice- it was a little cool even, but I took Shug to both and cuddled with her.