- April 30, 2010 -
No more April left... it was a decent month I guess; it was a three paycheck month, and those are great for sure, but I also had car tags/taxes due and did a lot of stuff home and garden wise so I'm not any bit ahead at the bank, but I certainly got a lot done, and I guess what I put into the house increases its value, so it's a good thing. This weekend I'll most likely end up doing computer stuff I ponder.
- April 29, 2010 -
April is almost over, and it's been an A+ month for getting stuff done; lots of yard work and spiffing up the outdoors. For all of Teresa's hard work on the lean-to I got her a much-promised patio set.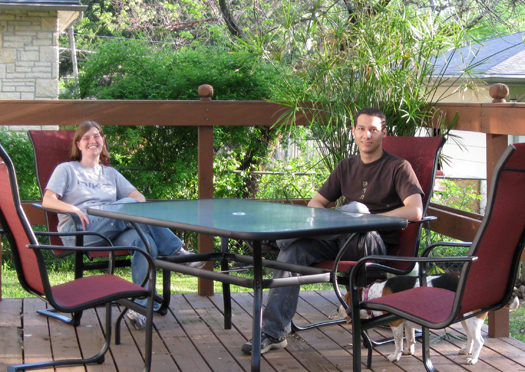 - April 22, 2010 -
Work was kinda interesting today; we had about a dozen computers go into fits of booting and restarting, and thought it was a virus, several pointed out they were infected before it began... It turns out that McAfee, in an epic FAIL, put out an update that falsely considered a Windows system file to be a virus... so computers which got the update went into a tail spin and crashed. I'm glad we don't have a fancy update server that downloads the most current update for everything and automatically sends it out to everyone, some places that do had hundreds of computers go down at once. I felt good for figuring it out. *claps*

Tonight I tackled another flower garden; this one was more of an evil tree patch. There were two tulips buried in it- I pulled one out down to the ground without realizing it so I'm going to have to figure out where it's at again... I'll try to transplant them somewhere else and then dig the whole thing up.... at some point... We've got rain in the forecast though.
- April 18, 2010 -
Teresa's family came up for the weekend, and I worked on variouscomputer fixing projects and also some outdoor work. I cut some dead tree limbs down, got most of the garden dug up and a tiny bit planted. Aunt Jean brought me some host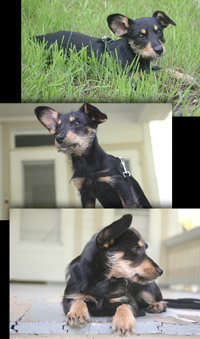 as today and I showed her the place.... there were really no great accomplishments like last weekend, though we did get a new grill tonight and assemble it. Now to disassemble the old one.
Tonight Sanka came to stay with us for a few days; she played with Shug in the yard all night while I gardened, a little timid at first cause Shug likes to chase and play rough, but she quickly realized she could outrun Shug- Shug got a lot of exercise and went to bed early. For sleeping arrangements I put Shug in her kennel and Sanka in her puppy porter, but she barked... so I put her in with Shug.... but she barked more, so finally I gave her a bath, and I'll try throwing her back in with Shug, and if she can't handle that she'll sleep with me. She and the cat don't get along so well though, so there are going to be problems no matter what I think- just three nights.
- April 15, 2010 -
Mulch! Teresa's friend Julie had a tree chipped so I was able to acquire a ton of mulch. I've already completed my northern hosta bed and the triangular flower bed by the drive way..... the front bed is filling with grass and needs work, and the one on the south side of the house I cleared of weeds and grass but still need more flowers in- I mulched around where there were flowers though.
I destroyed one ant colony with the woodshed replacement, but I've tracked workers from another colony going under the siding on the north side of the garage. Last night I got insect spray so I'm going to encircle the house in a ring of ant death. It's going to rain late tonight though so I might hold off- well... I already sprayed the place they all walk though...
- April 11, 2010 -
The focus of this weekend's project was to tear down and rebuild the woodshed lean-to, which was by far my least favorite part of the house. The roof was collapsing on the northwest corner where there was water damage and it looked like it had been caught on fire at some point. In the ends of all the roof joists ants had taken up residence- I didn't discover that until I started to tear into it... and the lattice was starting to fall apart. Friday we tore into it with me on the roof chipping away and Teresa pried off lattice and helped throw away all the junk. Jesse had briefed me on some of the basics and some of what I learned in junior high shop came back I guess- Jesse also let me borrow his circular saw, which was extremely helpful. Saturday was filled with tearing off the rest of the bad stuff, and I started to cut new joists. Carrie called with a desire to bbq some, but I didn't really have time for it; I did get her to come over with Jason and get them to haul some stuff from the local Home Depot to my house. Raider is good at hauling, but two sheets of four by eight foot plywood in a non-starter. Sunday was a mad day of sawing and working. I found shingles that matched the rest of the house, which is so much better than the roll of gray that they had put on it before. In the end the entire project cost me $288 and I think it was quite well worth the price... course now it's also going to cost me some nice patio furniture so Teresa can relax on the deck for the time she put in and so she can catch up on her reading after slaving away for me.
Friday; before we began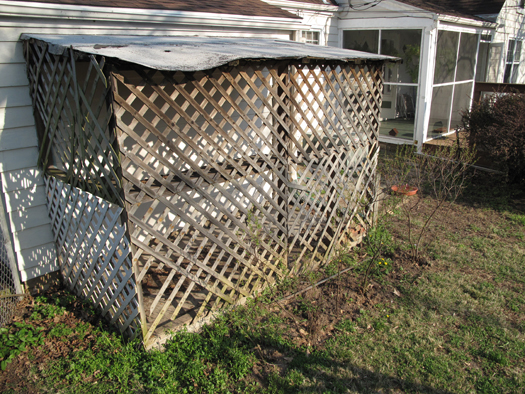 Friday; end of the day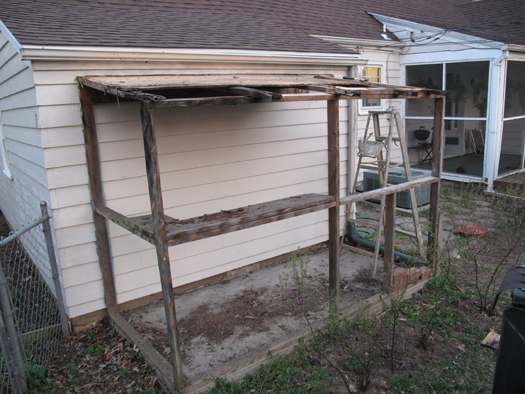 Saturday; end of the day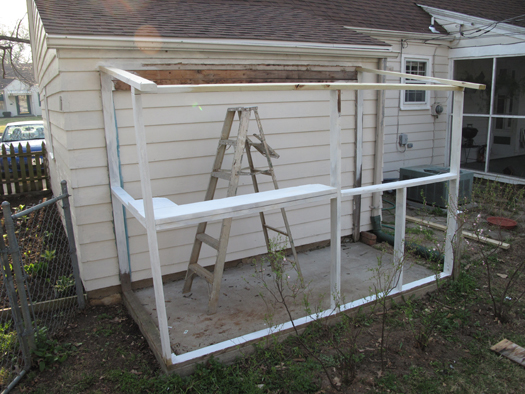 Sunday: end of the day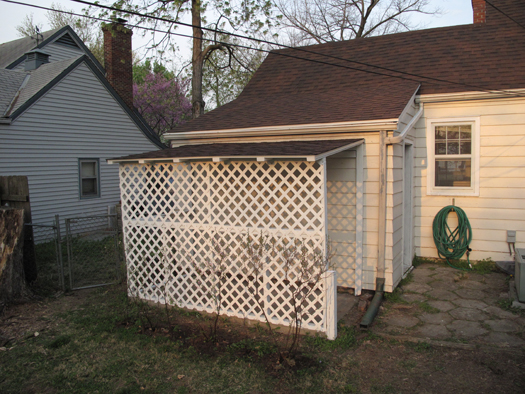 - April 4, 2010 -
It was a busy weekend! Friday Jesse helped me get a couple panels to finish the dog run, which I assembled Saturday morning. A lady down the street ordered six 6/6' chain link panels and had Home Depot deliver them... I woke up to the sound of a big truck... and then beeping. They delivered them with a semi and a huge flatbed trailer, along with a fork lift, and set it all up for her... seemed like so much overkill- wonder how much that cost her! After that I had a cleaning frenzy, went to work a few times to swap DVDs; Final Cut Pro comes on 7 DVDs each taking over and hour to install, so I ran out of time Friday installing it. I washed Raider on the way home and then had Carrie and Jason over for a bbq that night. The old grill was completely rusty, so I had to put foil down to cook on... I think it's time for a new one. The cover turned from a medium orange to a burnt umber slowly as I cooked too. After they left I started to draw out plans for a window box planter for the upstairs window; well, I was kinda designing on the fly... glue and nails are difficult to do at the same time... without a workbench or the right tools... I started with gluing the end of one board.. and then putting it to the other.. but then holding both and nailing them was a huge problem; once I got a few together though it went better. I pondered lining it with plastic and planting in it.. but now I ponder it will be more of a pot holder. Sunday Shug & I went to Holton to see the parents; I got a few more of Grandmother's things. They've completely cleaned the place out now, so I helped Dad move some furniture upstairs in our house, and then helped at the humane society in setting up a new computer- Shug got a new collar and bandanna.
- 2001 - 2002 - 2003 - 2004 -
2005 - Jan - Feb - March - April - May - June - July - Aug - Sept - Oct - Nov - Dec -
2006 - Jan - Feb - March - April - May - June - July - Aug - Sept - Oct - Nov - Dec -
2007 - Jan - Feb - March - April - May - June - July - Aug - Sept - Oct - Nov - Dec -
2008 - Jan - Feb - March - April - May - June - July - Aug - Sept - Oct - Nov - Dec -
2009 - Jan - Feb - March - April - May - June - July - Aug - Sept - Oct - Nov - Dec -
2010 - Jan - Feb - March - April - May - June - July - Aug - Sept - Oct - Nov - Dec -
2011 - Jan - Feb - March - April - May - June