Song of the Month: Dashboard Confessional - Stolen
- May 31, 2008 -
This morning I started a Facebook page (you must have a facebook account to view it) and I already have eight friends. It's a good way for people to keep in touch with one another I guess.
Today Teresa and I went in to the office and repotted some of my plants, washed her car and vacuumed it out after a pot of dirt tipped over on the back floorboard... played tennis (for the record, Craig has a perfect season thus far) and we did some new car looking for Craig. I've been leaning towards the Scion tC for some time now.
- May 30, 2008 -
I've been out and about a lot the last couple weeks: There was a game night at MaryLou's house while her cousin Mara was visiting from California. Teresa and I painted furniture at the Veatch's house and stayed overnight to play Wii- Teresa also completely annihilated me at Smash Brothers, I was completely humiliated! Lin & Brian went to England so Teresa & I house sat along with Lin's nephew Alex; why three house sitters you ask? Well Lin has a nice TV, so for me it was just some good Nintendo time. I regained my honor once again in Smash Brothers and reined supreme at Call of Duty. The night before last Bob, Teresa and I went to see the new Indiana Jones movie.... I thought it was good, but I can see why people disliked it- just completely and totally implausible.. and then last night Teresa & I went over to Matt Powell's to play Rock Band on his new Playstation 3. Both his and Jessica's family were over so his brother came down to play with us.... Matt seems to verbally malign his brother with every word, but in a most loving manner that doesn't seem to bother him too much. Jessica's brother also came down but he pretty much got a pass from the abuse. I stuck to the easy level most of the night, and tended to get kicked out when I'd try to progress into medium.
- May 16, 2008 -
It was a good day today! I formatted CRDNAS1 with Debian- it always seemed most disagreeable to it before, a number of times I tried and failed in earlier months- and I had problems doing it this time as well, but I got it to install on the NAS. Nothing is really set up on it yet, and it is quite Cardassian in how it responds (on Deep Space Nine O'Brien was always fighting with the station's Cardassian computer which would override his commands or inform him whenever he did something outside of acceptable Cardassian protocol). There were a number of instances where I saw this connection, but most-so when it declared I did not have necessary access privileges to eject the DVD drive.
- May 14, 2008 -
My car died tonight on the way home from work. First it lost a belt as I went over the north bridge of the Kansas River which cause the volt light to go on and the power steering to go out, but otherwise it seemed OK. I quickly called home and reported what happened and Mom said that since it seemed otherwise OK, to try and make it home. It was not much later when I reached the overpass to the roundabout and it started to lose power so I pulled over. All the belts were thrown off, and the area that drove all the belts on the front of the engine was sheared off from the engine block. In the process of shearing off it took the oil filter which it then began to dump the oil. I called home again and Mom called to have it towed and after nearly an hour I got picked up and brought back to town. Dad has been working on it- he said the engine never seized up, but it would just be easiest to pull the engine and put in a different one.
- May 8, 2008 -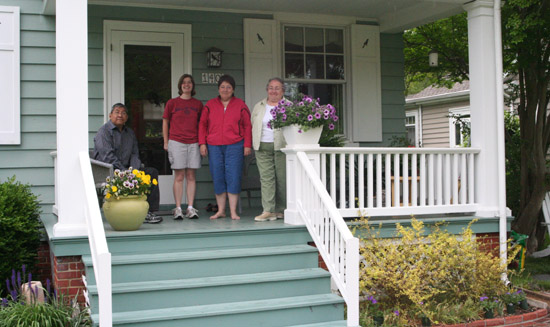 The focus of the day was just getting home. We ate breakfast, packed up all of our suitcases, thanked and hugged Sue goodbye, and hopped into the Silver Avenger to go back to the airport in D.C. -We were told at the rental car counter that we were getting a Dodge Avenger, but when
we got down to the lot they said that the Avenger was already promised to someone else and they should not have checked it out to us... so we got a PT Cruiser instead. I think an Avenger would have been cooler, but the Cruiser served us well. The D. C. area is a real pain to drive around though, we never could find our way easily by car, so there was some meandering involved. We got to the airport and checked in and went through security and sat for a couple hours. When we got up to board the plane I noticed Sam Brownback talking on his cell phone- he ended up in the seat in front of me on the plane. That's the closest I've even been to a former presidential candidate! I came within a few feet of Bob Dole at Washburn once I guess.... Congress had just adjourned, so a number of elected officials filed onto the plane most notably Nancy Boyda who Teresa and I ogled and stared at a bit too much probably- Teresa got to shake her hand... and where was I??? At the baggage claim getting all the suitcases with Bob.
- May 7, 2008 -
Colonial Williamsburg was the focus of the day trip. My stomach was mostly better today so I was up for today's travels. We set out on the highway to Williamsburg. Highways in Virginia are kinda nice in a very monotonous way... they plant a ton of trees on both sides- often in the median too so there will be three lanes going in one direction through a forest with no other landmarks in sight. I'm sure it's very good at dampening the sound for people that live near the highway, and it's good for the environment to have the trees there to absorb some of the carbon, but if you want to see anything except a wall of trees Virginia highways are not for you. We got to Colonial Williamsburg and entered the visitor's center... Williamsburg seems to be like a World's of Fun of history, not from a fun standpoint of course, but more from a marketing perspective. There was a lower than average number of people there today, but they seemed like they could gear up to process mass quantities of people to enter- there were probably a dozen ticket counters or so.... so we mozied on up and *gulp* it was $37 to enter and $40-some'n if we wanted to go into the Governor's Palace. We went for the 'cheap' tickets and after a short film that explained the site we were on our way through the colonial town. We went on tours of the capitol building, the jail, Bruton Parish Episcople Church, and wandered the grounds for a couple hours... but then I saw something that made me ponder...... a random person just jogging through the the streets of Colonial Williamsburg??? It seemed the modern city of Williamsburg which grew up around the colonial parent didn't really have a barrier- so you didn't actually have to pay at the visitor center to get in, only if you wanted to tour the a handfull of buidlings there did you need a pass- otherwise many of the buildings would let you in no matter if you paid or not, so I found the price to be a little inflated for what we got.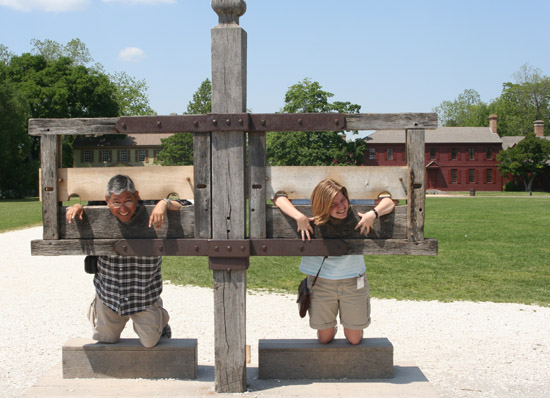 After a few hours we set out on Colonial Parkway, a scenic highway, to Yorktown. There were a lot of nifty brick overpasses- which is all we saw because of the trees on both sides of the road... at Yorktown we meandered about the battlefield some- they too had a visitor's center where you could pay $10 per person to see things in their building... but we elected to see the cannons and such in the free outdoor area.
I'd only managed to eat little things as my stomach was still upset, and lunch wasn't very good but by the evening I think I was nearly back to normal.
- May 6, 2008 -
Today was a bum day! The weather was again perfect- but I however was not in the best shape. I wasn't feeling well last night, and then really late in the night I threw up about a dozen times. I felt a little better after that, but my stomach still wasn't happy so I sat the day out while everyone else toured Richmond.
- May 5, 2008 -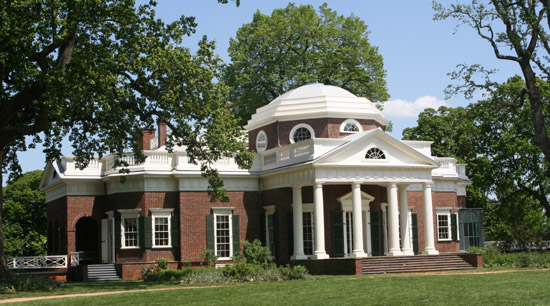 The Montichello was today's day trip, though everyone there pronounced it "Montichella" which I found interesting. First we meandered around the grounds, I got a Montichello magnet at the gift shop, and we saw the grave of Thomas Jefferson in the Jefferson Cemetery- the Jefferson family still own the cemetery, and people are still buried there, but the house is owned by a foundation now. We went on the guided tour of the downstairs of the house, it has a very small staircase to the upstairs that doesn't meet fire codes now so they cannot take tours upstairs. The big rule of the house is to not touch anything- there was someone in our tour group that touched one of the concrete pillars on the front porch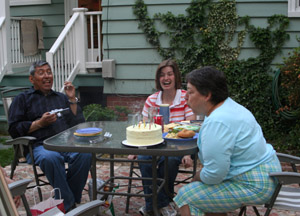 and a guide immediately came out and told him not to touch anything. It was amazing how much of the house has been kept in its original condition. It was owned by another family after the Jefferson's and they seemed to take great care in preserving it, and the foundation has worked hard to recover anything Jefferson owned to return it to the house.
After we got back to Sue's we threw a surprise birthday party for her- her birthday is not until after we leave.
- May 4, 2008 -
It's the first anniversary of the tornado that hit Greensburg and President Bush is in Kansas and it's our last day in Washington D.C. We went back to the Mall and went to the Natural History Museum and saw the Hope Diamond and all the gem and minerals on exhibit there as well as a huge elephant. Then we meandered outside some more on yet another perfect day. We walked to the Capitol, both houses were out of session today, they raise a flag on the top of each or over just one when they are in session. We also walked behind the Capitol to see the Library of Congress and it too was closed. We really didn't have a lot of time to go into each place anyway, but we did want to at least stop by and see them which we were able to do- the only thing we really didn't see was the White House. You can see it from the Washington Monument, but it's kinda far away.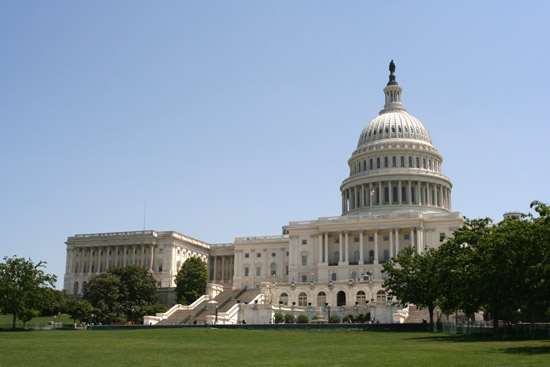 On our way back to the Metro we walked through the Botanical Gardens. The only problem of the day came when we went to pick up the rental car to go to Richmond- we got very lost, so we ended up calling and canceling it and Sue brought us back to Richmond in her car. Tomorrow we'll get a rental from the airport here and drive it around instead.
- May 3, 2008 -
What a big day! There was a lot of walking about- We all (MaryLou, Sue, Bob, Teresa & I) started the day off with a big breakfast at the corner deli- and it was fairly priced too! When we had full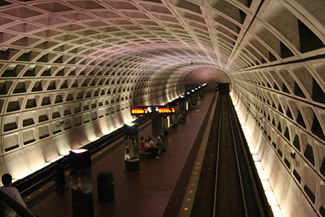 bellies we meandered the farmer's market here in Arlington by the court house which dominates the neighborhood. It's the name of the Metro (subway) stop too. The Metro stations are pretty neat; there are some pretty big escalators that take you down into the ground- the ticket system can be a little plexing at first, but once you figure it out it seems like a very good system. The stations are all have big waffle vaulted ceilings and decently clean subways. D.C. and Arlington are all very upscale so there are lots of well-dressed people about- not scary at all compared to the New York subway system.
After getting off the Metro at the Smithsonian station we went to the main tourism information center which is in a big red brick castle-like building- and from there we
parted ways; Mary Lou and Sue went to the legendary Spy Museum, and Teresa, Bob and I went to the National Air and Space Museum. I found it very fascinating. We saw all the old classics like the Wright Flyer, Amelia Earhart's Vega, and the Spirit of St. Louis. They also had a section for new unmanned aerial vehicles- I was not aware that there were so many different models in use, and that some of them were as large as they were. There was a lot going on there, and a lot of children... there were children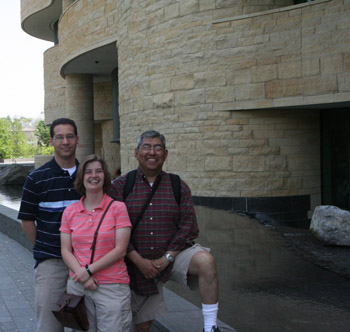 everywhere! So we meandered over to the Native American Heritage Museum. It's a new museum and it's a beautiful building- it has numerous bends and curves with no square corners and it meant to look like a stone shaped by nature. There is also a large pool/waterfall along the side. I was a little less impressed with the inside- It seemed to be a lot more about the building rather than the exhibits; the entrance seemed like a massive expanse of nothing, and there was a ledge you could see from the other side of the third floor that was just suspended there- and it seemed like a neat design, but it just collected dust since the day the thing was built, so it was kinda meh. It was very heavy on gift shops on every floor too, I think there was probably as much gift store space as there was exhibit space.
After a bus ride we met up with Mary Lou and Sue again at Ford's Theater, which was closed for renovations, but we did tour the
Peterson House which is where President Lincoln was taken to and passed away. It was a very quick tour as you really see just a small part of the residence and then we all went and ate at a nearby Cosi. Again we parted ways and Teresa, Bob & I went and toured the National Archives to view all the important founding documents of our nation.
Our biggest walk of the day was the next trek from the National Archives to the Jefferson Memorial, which was the last major monument we hadn't seen. It's situated on the other side of the river from the rest of the city, and the Metro and buses don't seem to go over to it so we walked, and it was quite a trek. I think the Jefferson Memorial was my favorite one that I've seen so far; Lincoln was very nice too, the seated Lincoln was larger, and the Washington Monument is the focus of the city, but I like the architecture and statue the most at Jefferson.
We made our way back to the Metro station and then returned to the hotel to decompress. For sup we went to TNR - Tea Noodle Rice, an asian restaurant where I got miso soup, yellow curry fried rice, and a bubble lychee green tea- it was great!
- May 2, 2008 -
We got up early in the morning and headed down to the hotel restaurant... We got our morning eats, buffet style, and after we ate our fill we got the bill (they didn't post what the price was) and it was more than what we spent for dinner the night before.
After breakfast Bob, Teresa and I then proceeded to the Mall where we walked to a few of the nearby monuments and then we purchased bus tour passes for the day. They have tour busses that stop at most ever monument and building, and you can get on and off and catch other buses at any time or just ride and listen to the guide. We rode until we got to Arlington Cemetery and then we went on the tour there. I was a little disgruntle with my camera at this point- the compact flash card was corrupt and wouldn't store pictures. I had another card, but it was back in the hotel room so I wasn't able to take many pictures today.
Arlington Cemetery is huge, and not exactly what I expected; I envisioned completely uniform grave makers stretching for as far as the eye could see, and actually there are a lot of unique stones. It's actually a more recent rule that all the stones must be the same, and it's really quite a hilly place so there were not a lot of expansive areas for graves. Our first stop was at JFK's burial which is similar to the memorial they have in Dallas. Bobby Kennedy was buried nearby and had just a simple white cross. We also stopped at the Tomb of the Unknown Soldier and saw the changing of the guard, and also at a house in the cemetery. We rode the tour bus to the Lincoln Memorial which was near the Vietnam & Korean Memorials so we wandered around those and then we went back to the tour bus stop, but it had stopped for the night so we walked the entire length of the Mall back to the Metro station. When we got back to the hotel we met up with Mary Lou & Sue again and went out to eat at Summer's again.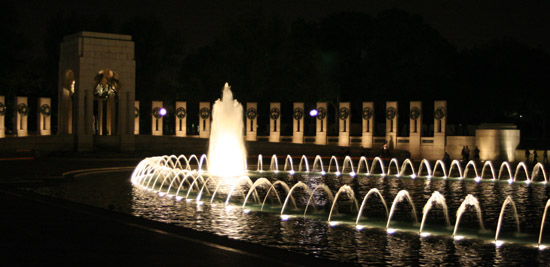 Many of the monuments on the Mall are open very late, so we decided to go back into D.C. to see them lit up. We walked to the
Washington Monument and then down to the WWII Memorial. After wandering around for a while we returned to Smithsonian Station to find the entrance gated off- we had read before that the Metro stayed open until very late, but some stations shut down earlier. The station didn't actually close, just the one entrance did, so after walking a couple blocks we were able to get to the station and board our train. There are two lines that run through the Smithsonian, and we managed to get on the wrong one which hit most all of the same stops as the one we needed, except for the last one, cause we veered off and found ourselves at the station underneath the Pentagon. We had to wait a while, but soon we where headed the right way, switched trains again and we found our way back to Arlington and the hotel.
- May 1, 2008 -
It's the first day of our D.C. trip and so far it's been pretty good and trouble free! Our flight was at 1:25, so we gathered at Mary Lou's around 10am- the flight was full,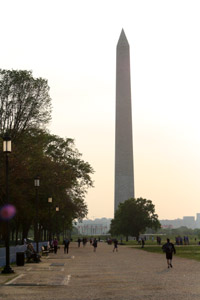 but overall the airport was very empty; there was no one else there when we checked in, it was really quite nice. The flight was fairly uneventful, our seats were all in row 21, which is the next to last row on the plane behind the wing, and between the engines on the 717 so we did not have much of a view other than the big engine out the window... you could see a wee bit of ground out the window beside the seat in front of us, but the wing eclipsed most of the view there as well.
After we disembarked the plane at Reagan International we hailed a cab and went to hotel in Arlington- it's decently fancy; much nicer than our hotel in New York, so we dropped off all of our stuff in our rooms and then set out to explore the transportation system. The D.C. area Metro is very nice compared to the subway system in New York- D.C. in general seemed to be much nicer, it's very clean, people seem well-dressed and hurry about, and there are a lot of people out exercising.
We took the Metro from Arlington to the mall area, which is really just a giant playground where people play kickball, softball, frizbee & a whole bunch of other stuff. Lining the sides of the Mall are all the museums, galleries and important federal buildings.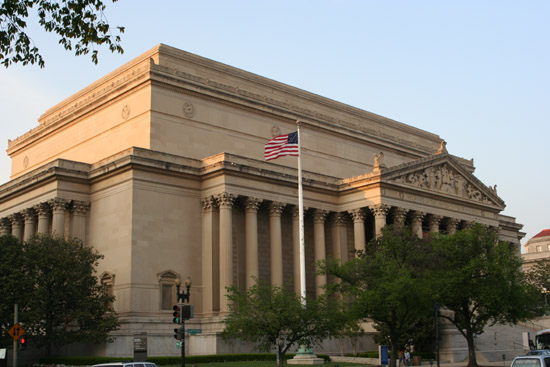 After we wandered the Mall we started to get really hungry and we couldn't find any places to eat so we headed back to Arlington and ate at a sports bar a few blocks from the hotel.