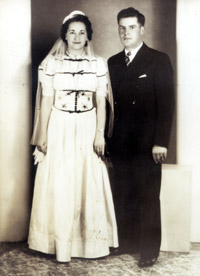 James Robert Dannenberg & Virginia May Pfister, My Paternal Grandparents-
Harley Algernon Taft Thomas & Dorcas Winifred Peden, My Maternal Grandparents-
Harley Thomas was born March 29th, 1908 in Huron, KS to William and Ada Whetstine Thomas. He was raised in Huron and in Troy and later moved to Horton where he worked at the International Harvester dealer. He also worked as a mechanic at Sunflower Ordnance Works in DeSoto. On March 30, 1933 he married Dorcas Peden in Holton. Dorcas was born Aug. 5, 1913 in Wathena, KS to Benjamin Franklin and Mary Olds Peden. She worked at JC Penney in Horton, and then became a licensed practical nurse and worked at the Sycamore care home in Valley Falls, and also did in-home care for the elderly. In Valley Falls Harley worked for Valley Implements, the International Harvester dealership, and also farmed. Together they had eight children, though one passed away shortly after birth. Before having children Dorcas was involved in politics, and was the Brown Co. Chairman of the Democratic Party. On June 28, 1977 Harley was admitted to the Topeka hospital and was diagnosed with cancer. Two months later he was transferred to Winchester hospital- at that time I was born in Holton Hospital, Mom spoke to him on the phone to tell him on the news, and Dorcas said that he understood. Harley passed away a week later on Sept. 7. Dorcas passed away Jan. 30, 1993.
Irvin John Dannenberg, My Great Grandfather-
Irvin was born July 12, 1888 in Haiwatha, Kansas. He married Mary Eva Mathewson in Oct. 5th, 1911 when he was 22 years old, and she was 19. Neither Irvin or Mary attended school, but both could read and write. All of their children attended school. Mary passed away in 1931, and in August of '33 he married Doris Devota Thompson. Irvin found in married life that Doris was not for him (it was said that she was a mean one). In May of '38 Irvin married his third and final wife Martha Olwen Jones. He died Sept. 13, 1981 in Haiwatha.
John W. Pfister, My Great Grandfather-
John was born September 5th, 1873 in Cedar Rapids, Iowa. He moved with his parents and sibblings to Haiwatha, Kansas and later married Flora May Lewis. They had ten children together.
Christian Pfister & Anna Winkler, My Great Great Grandparents-
Pictured below, seated in the center are Christian & Anna, along with their nine children, including John Pfister, standing third from the left. Christian was born July 2, 1835 in Thun, Utendorf, Switzerland. Anna was born Feb. 8, 1937 in Stone Creek, Ohio, and married Christian on April 17, 1864.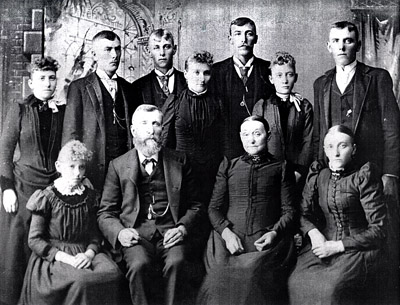 Mathias Whetstine II, My Great (x3) Grandfather-
Hardin Thomas, My Great (x3) Grandfather-
In 1836 or 1837, Hardin & Parmelia Thomas packed all they owned, including three slaves that had been wedding gifts, and choice seed, they moved with mule teams and oxen to central Missouri. Hardin was a Lieutenant in the Mexican/American War. He saw action at Monterey, Mexico on Sept. 21, 1846. Afterword he travelled south just short of Mexico City and Chapultepec and saw action in Buena Vista, Mexico in Feb. 1847. He returned to the front for active duty July 7, 1847. From there he was ordered to return home because of illness. His captain said in a report, "Lt. Thomas hasn't been well since an attack of brain fever at Monterey." (malaria) He returned home in the late fall of 1847, recieving a small grant for his service. The illness he suffered from during the war evidently killed him in the fall of 1848.
Daniel Graves & Eliza Robertson, My Great (x3) Grandparents-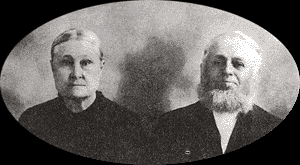 Daniel Graves was born on Feb. 4, 1827 in Sharp's Chapple, Tennessee. Eliza was born on May 21, 1832 in Terra Haute, Indiana. Their parents both moved to DeKalb County, Missouri which is where they met and married in 1848. They moved and were among the first settlers when the Kansas Territory was established in 1854. Together they had eleven children.
James Calhoun, My Great (x5) Grandfather-
Peter Wetzstein, My Great (x6) Grandfather-
- Peter's Last Will and Testament -
William Cambell Colquhoun, My Great (x8) Grandfather-
Robert Colquhoun, My Great (x9) Grandfather-
Robert de Colquhoun, My Great (x23) Grandfather-
Robert de Colquhoun was born in 1220 in Dumbarton, Scotland. He was born a Kilpatrick but took on the name of Colquhoun when he became lord of the lands of Colquhoun. My Colquhoun ancestors remained in Scotland for thirteen more generations.
Umfridus de Kilpatrick, My Great (x24) Grandfather-