It's been over six decades since Amelia Earhart was last seen in the skies over the Pacific and though she is gone, she is far from forgotten. Today Earhart stands as one of Kansas' most famous citizens. Her story still appears in newspapers, her life is portrayed on the stage and on television, places are named in her honor, and statues are still created in memorial of one of our most famous Kansans. This site is designed to explain why we consider Amelia to be as famous as she is and to show how she rose to stardom.
The first and most obvious trait needed to be considered being a famous Kansan is that you have to be a Kansan. In 1860 Reverend David Earhart moved to Sumner, Kansas, three miles south of Atchison, with his family and Amelia's father, Edwin, to preach in the Evangelical Lutheran Church. Amelia's maternal grandparents Amelia Josephine Harres and Alfred Gideon Otis married and moved to Atchison in 1862, a year after the civil war began. In 1869 Amy Otis, Amelia's mother, is born in Atchison, Kansas.
"In the next few years, Atchison became an important terminus for the Burlington and Santa Fe railroads. A Lutheran college was established on the outskirts of town, streets were paved, and churches built. A successful law practice and wise land investments made our grandfather (Otis) wealthy. He became a bank president and an elected Judge of the United States District Court" (Morrissey, 2).
On October 16, 1895 Edwin Stanton Earhart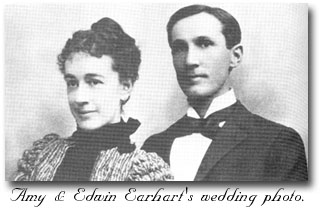 and Amy Otis were married. Edwin had graduated from the University of Kansas Law School and opened his own law practice, which was doing well enough for Grandfather Otis to begrudgingly allow his approval for the marriage. Amy had attended Vassar College, but had to withdraw from school after catching typhoid. She still remained highly active and worked for her father, became the first woman to climb Pike's Peak, and organized a Dickens Club after her marriage to Edwin.
When it came to her family's background, Amelia was very fortunate. Her grandparents not only helped build Atchison, but financially thrived though hard times. The Otis side of her family became good friends of Kansas Governor Martin and Kansas Senator Ingalls, whose daughter Constance was close in age to Amy. Amelia's parents continued in their parents' footsteps and Amelia's daring mother began a legacy that would inspire her own drive to succeed.